Fundraising to be easier for businesses planning to set up overseas operations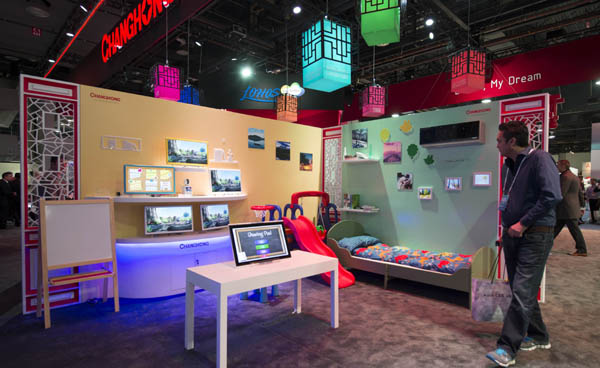 Intelligent home systems made by Sichuan Changhong Electric Co Ltd attract attention at the International Consumer Electronics Show in Las Vegas, in January. China was among the top three export markets for 42 US states in 2013. [Photo/Xinhua]
China is to ease restrictions on outbound investments to sharpen the edge of Chinese companies overseas as the world's largest commodity exporter transforms into a net capital exporter.
A State Council executive meeting presided over by Premier Li Keqiang decided on Wednesday to streamline procedures for domestic companies to launch overseas listings, mergers and bank openings.
This will make fundraising easier for companies planning to operate abroad.
A statement issued after the meeting said commercial banks have been encouraged to provide stronger support for exports of major equipment to ensure that all funding requirements for such overseas sales can be met.
The government has also scrapped a long-disputed precondition for overseas investment by allowing investors to wire money directly to targeted companies abroad and register their cooperation projects at banks.
Under the current regulations, companies must obtain government approval for such deals, even though they have already reached an agreement with foreign firms.
Export credit insurance will also be open to more commercial insurance companies.
This type of insurance is a risk management product and a means to facilitate international trade, ensuring that businesses receive payment after goods are delivered despite protracted defaults, bankruptcy and other unexpected incidents.
This will end the monopoly held by China Export and Credit Insurance Corp, with the aim of reducing insurance fees when competition is introduced.
The easing of restrictions comes as many Chinese companies are expanding overseas, with China eager to restructure their sales abroad by including more high-value-added products.
China is poised to become a net capital exporter for the first time by the end of the year, when its overseas direct investment is expected to surpass its foreign direct investment.
Chinese companies had secured new overseas deals worth $161 billion by November, up by 12.5 percent year-on-year, with such companies operating overseas employing 17 million workers, more than half of which are foreigners.
In a speech to global leaders in November, President Xi Jinping said China will invest more than $1.25 trillion in the next 10 years to realize Beijing's proposal to build the Silk Road Economic Belt linking Asia and Europe.
According to media reports, Ping An Insurance (Group) Co has bought the Lloyds building, a London landmark.
Wang Jingyuan, a researcher at the Investment Research Institute under the National Development and Reform Commission, said the policies announced on Wednesday will enable Chinese companies to be more competitive when it comes to overseas investment.
This is because the policies will end uncertainties over regulatory approval, and lengthy waits.
Policies were also announced at Wednesday's meeting to ease government financial difficulties and improve the living conditions of people with disabilities.
Wu Jiao contributed to this story.