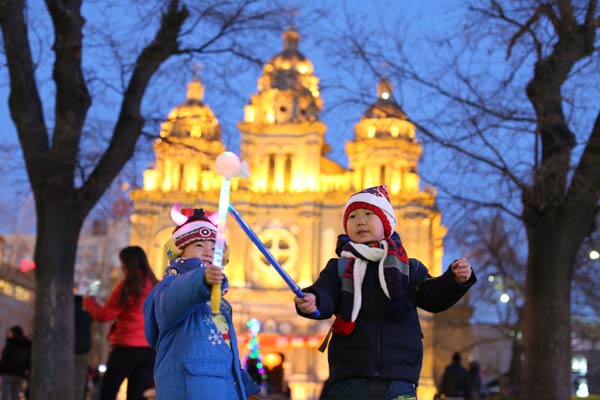 Liu Yuyang (left), 4, and Zhang Yanbo, 5, have fun in Wangfujing, Beijing, on Wednesday night. Many residents of the Chinese capital thronged downtown areas on Christmas Eve. WANG JING/CHINA DAILY
Christmas-related exports from Guangdong province have been boosted by the recovering economies in the United States and European Union.
Exports of festive products from the southern province rose by nearly 30 percent year-on-year to 7.07 billion yuan ($1.13 billion) in the first 11 months of this year.
This growth compares with a 12.3 percent increase last year, a 13.6 percent fall in 2012, 4.3 percent gain in 2011 and 0.5 percent decline in 2010, according to the Guangzhou Customs.
Christmas-related exports from Guangdong set records in August and September, with the July to October period being the peak season for such exports, the Customs sources said.
From January to November, such exports to the US rose by 35.3 percent and those to the EU by 31 percent. These two markets comprised more than 76 percent of total Christmas goods exports from the province during the period.
Surprisingly, such exports to Iran rose by 120 percent to 310 million yuan, while those to countries in the Association of Southeast Asian Nations dropped by 11 percent during the period.
This year, exports of Christmas product packages increased, with individual products sent to bonded warehouses and wrapped before being delivered overseas.
Bai Pengming, a researcher at market research firm CI Consulting, said the growth generated in Guangdong reflects an encouraging improvement, increased consumer incomes and a stronger spending desire overseas.
The US and EU are leading the soft recovery globally and their economies are expected to see a strong recovery next year, Bai said.
This should provide a better market outlook and serve as important support for China's exports.
Guangzhou Kingway Gifts Industrial Co, which makes Christmas gifts and decorations, recorded a better year in 2014 thanks to the improving US economy, said Yu Kuiming, who works in the company's Foreign Trade Department. He declined to give a growth figure.
The company's products are sold mainly in the US and EU and its Christmas orders are delivered between July and October.
However, it expects to see weakened purchasing power in Russia next year and plans to redefine its clientele and cut prices of products bound for that country, Yu said.
It also plans to launch cross-border retail e-commerce next year on platforms such as Amazon and eBay.
Yiwu, a city in Zhejiang province that is also a leading source of Christmas product exports, reported a 27.6 percent increase in such trade in the first 11 months of this year, according to Customs officials.
Zhou Chutian contributed to this story.