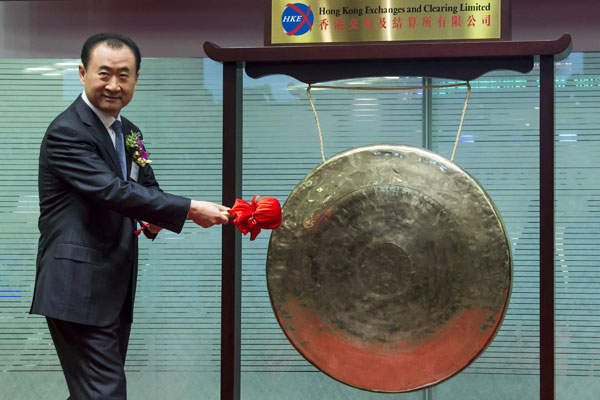 Wang Jianlin, chairman of Wanda commercial properties, strikes a gong during the debut of the company at the Hong Kong Stock Exchange Dec 23, 2014. [Photo / Agencies]
Wanda Commercial Properties fell below its issue price on its debut at Hong Kong Exchange on Tuesday as Asia-Pacific's biggest initial offering this year.
The shares closed at HK$46.55 in the morning session of its first trading day, down 3 percent from the HK$48 offering price. The property developer, controlled by Chinese billionaire Wang Jianlin, sold 600 million shares to raise HK$28.8 billion
The IPO has attracted institution investors, including US hedge fund Och-Ziff Capital Management and Kuwait sovereign wealth fund, and is world's biggest listing by a real estate company, according to Dealogic.
The offering will "enhance its equity base and capital structure," said Kaven Tsang, vice president and senior analyst at Moody's, in a statement, adding that the IPO will in addition "expand its investors base and enhance its already strong liquidity position for the purposes of business growth."
Dalian Wanda Group currently operates 98 shopping plazas, with a total leasable area of 17.04 million square meters, according to the company's website, ranking second in the world. Another 27 malls are under construction.
Wang Jianlin, who, along with his family, retains about 54 percent of the company, has become Asia's third wealthiest person after Li Ka-shing and Jack Ma Yun. According to Bloomberg, he has a net worth of $24.8 billion.
The 60-year-old said to the press at the debut ceremony on Tuesday that he has confidence in the business. Wanda Cinema Line has obtained regulatory approval for an IPO in Shenzhen.