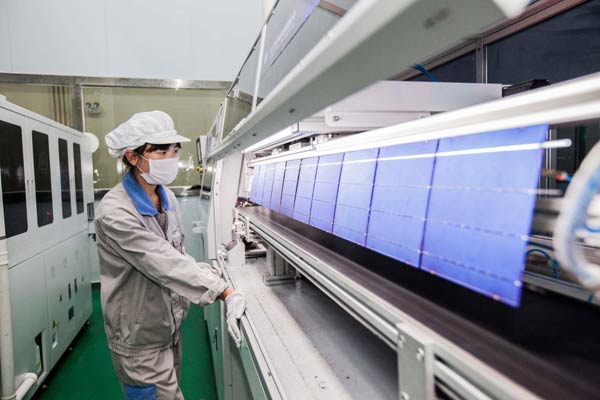 A solar module production line at a company in Lianyungang, Jiangsu province. The US ruling will deal a heavy blow to Chinese solar companies, forcing them to accelerate the move to emerging markets. SI WEI/FOR CHINA DAILY
Domestic solar panel producers are looking to emerging markets to offset mounting difficulty in the United States, where they fear they may be entirely squeezed out by a new ruling on dumping duties.
A final decision announced on Tuesday by the US Department of Commerce said that solar panel products from the Chinese mainland were sold in the US at dumping margins ranging from 26.71 percent to 165.04 percent, and those from Taiwan were from 11.45 percent to 27.55 percent.
Products from the mainland received government subsidies ranging from 27.64 percent to 49.79 percent, according to the department.
It is the second time that the US has accused Chinese solar companies of avoiding the impact of import duties.
Compared with the first time, this ruling covers a wider range of products including photovoltaic modules, laminates and panels. It also targets Taiwan.
The US arm of German solar manufacturer SolarWorld AG had claimed that mainland solar producers were able to sidestep duties imposed in 2012 by sourcing cells used in solar panels from Taiwan.
The move will deal a heavy below to Chinese solar companies, forcing them to accelerate the move to emerging markets.
"Actually, the decision caught us off-guard ... we knew that the ruling might go against us, but it is exaggerated and nonsensical," said a source at a Chinese solar maker. "Everyone knows that it is impossible to get a government subsidy" at rates as high as those cited by the US. "They will eventually drive all Chinese solar producers out of the US market," the source said.
Wang Guiqing, deputy-director of the China Chamber of Commerce for Import and Export of Machinery and Electronic Products, said leading Chinese solar companies plan to lobby and pursue their legal options.
"We are also considering a resort to the World Trade Organization," he said. The industry is now waiting for the final affirmative determination by the US International Trade Commission to be announced on Jan 29.
Exports of solar products from the mainland shrank more than half to $1.5 billion in 2013 from $3.1 billion in 2011, while exports from Taiwan surged 200 percent to $657 million from $256 million during the same period, official data from the US government said.
Trade analysts said the Chinese mainland exports 70 percent of the world's solar products, and some of these companies have turned to emerging markets to offset the pressure from the US and Europe.
Gao Jifan, chairman and chief executive officer of Trina Solar, said the company has set up regional headquarters in Southeast Asia and the Middle East, where demand for solar panels increased a lot in recent years.
"This is something we had been planning. The US decision will just accelerate that progress," he said. "It is hard to imagine the US solar market today without China-produced solar panels, because solar products from outside China certainly cannot meet the demand of the US market."
He said the move is not wise because sanctions will not only hurt the Chinese solar companies but also the US. The country's downstream companies will face higher costs and that may even increase unemployment in the US solar industry.
The top three Chinese companies exporting to the US are Trina Solar, JinkoSolar Holdings Co, Ltd and Yingli Green Energy Holding, trade analysts said.