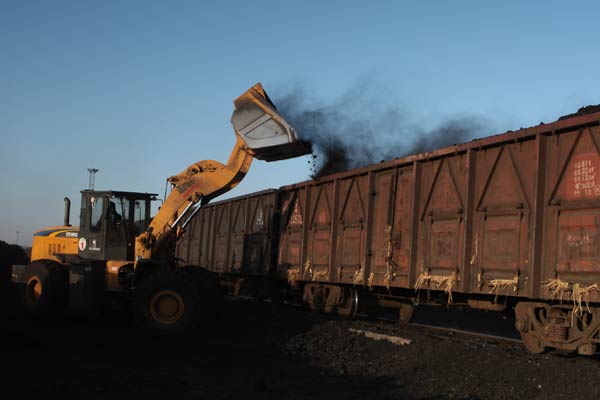 Coal is loaded for railway transportation in Tongliao, Inner Mongolia autonomous region. [Photo/Xinhua]
Dark days seem to be ahead for coal producers in China, with slower economic growth and weak downstream demand set to drag sales in 2015, notwithstanding the government decision to slash export tariffs, industry sources said on Thursday.
Shenhua Group, China's biggest coal company, has already reported a sharp slowdown in sales for November. The company sold 34 million metric tons of coal last month, down 30.2 percent from same period last year, the company said on Wednesday. China National Coal Group Corp, the other major player, reported a 16.1 percent year-on-year drop in sales in November.
"Most of the power stations in China already have stockpiles of thermal coal, and the future power demand scenario does not offer much room for comfort as it remains depressed due to the economic slowdown," said Dai Bing, director of coal industry information department at JYD Online Corp, a Beijing-based bulk commodity consultancy.
The severe overcapacity in the industry is also compounding woes for coal companies, he said.
Though the coal companies had decided to cut production to ease overcapacity, problems still remain, the sources said. Several coal producers, including Shenhua, started to cut output from August this year. The company lowered its 2014 output target from the previous 318.1 million tons to 305.4 million tons.
Shenhua's monthly coal output has recorded sharp year-on-year declines since September, and this will lead to significantly lower output target for the whole year, said Lin Xiaotao, an analyst with ICIS C1 Energy, a Shanghai-based energy information consultancy. She said that Shenhua may report a 4-percent drop in total coal output, compared with the level in 2013.
The Ministry of Finance said on Tuesday that the government will cut export tariffs on coal, including thermal coal and coking coal, from the current 10 percent to 3 percent starting from Jan 1. The new measures are expected to benefit domestic coal producers, the sources said.
However, Dai from JYD said the measure will not help much as China's coal exports are negligible. According to the General Administration of Customs, China exported 7.5 million tons of coal in 2013, while the total imports were 330 million tons. China became a net importer of coal in 2009 when the country imported 130 million tons of coal and exported 22.4 million tons that year.
"Australian and Indonesian coal products have considerable advantages in terms of both quality and prices when compared with domestic coal. This has led to higher coal imports and less exports," said Dai.
A coal trader who declined to be named said the export tariff reduction on coal will not trigger more exports. China mainly exports coal to the Republic of Korea, Japan, the Democratic People's Republic of Korea, Vietnam and Cambodia, countries that do not have much demand for coal.
India, a relatively large coal consumer, is considered too far for coal exports from China, the trader said.