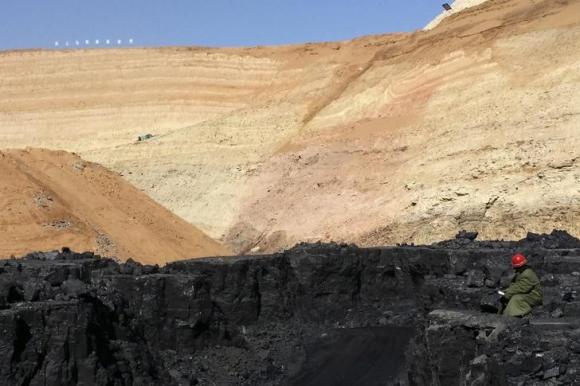 A mine worker looks at stacks of coal in an open-cast steam coal mine located in the Ordos mining district, Inner Mongolia Autonomous Region, March 14, 2014. [Photo/Agencies] 
India is hoping a new China-backed multilateral lender will fund coal-based energy projects, an official said, putting it in direct conflict with the World Bank, whose chief has maintained that it would stick to its restrictions on such lending.
A senior Indian official told Reuters the Asian Infrastructure Investment Bank (AIIB), sponsored by China, is expected to allow funding of coal-fired power plants that the World Bank has almost totally blocked.
"When you have 1.3 billion people starved of electricity access and the rest of the world has created a carbon space, at this point denying funding is denying access to cheap energy," said the official, who spoke on condition of anonymity.
India sits on the world's fifth-largest reserves of coal, and the commodity generates three-fifths of India's power supply. But the demand for electricity far outstrips supply, and according to data compiled by the World Resources Institute in 2012, proposals have been made to set up 455 new coal-fired plants in the country.
Research house Integrated Research and Action for Development said earlier this year India needs to invest $250 billion in the power sector by 2017.
Since 2013, the World Bank's energy strategy limits the financing of coal-fired power plants to "rare circumstances".
"We have got to redouble and redouble again our efforts at fighting climate change," World Bank President Jim Yong Kim told Reuters in an interview in Seoul on Wednesday. "And our way of doing it is to just do everything we can to avoid coal."
Kim has said the World Bank has not signed any agreements to support coal-based power plants since he took office in July, 2012.
The Asian Development Bank (ADB), a multilateral lender dominated by the United States and Japan, says it will selectively support coal-based power projects if cleaner technologies and other safeguards are adopted. Last year, it approved a $900 million loan to help build a 600 megawatt coal-fired plant in Pakistan.
The articles of agreement of the AIIB, which will include its lending strategy, will not be finalised until the end of 2015, Chinese officials have said.