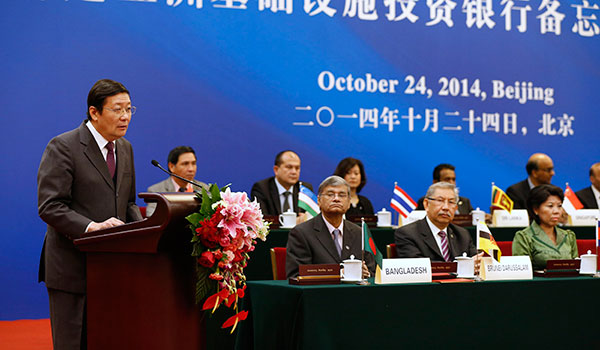 China's Finance Minister Lou Jiwei (L) gives a speech, with the guests of the signing ceremony of the Asian Infrastructure Investment Bank at the Great Hall of the People in Beijing Oct 24, 2014. [Photo / Agencies] 
Indonesia could decide as early as next week to join a China-backed Asian infrastructure bank, the finance minister told Reuters, as Southeast Asia's largest economy looks for extra funding to build much needed ports, railways and roads.
China's $50-billion Asian Infrastructure Investment Bank (AIIB), launched last month, is seen by the United States as a challenge to the Western-dominated World Bank and Asian Development Bank.
"God willing we will join," Finance Minister Bambang Brodjonegoro said on Tuesday. "The president has given signs (of approval)."
Indonesian President Joko Widodo, who took office last month, could announce the decision during a planned meeting with Chinese President Xi Jinping on the sidelines of next week's summit of Asia-Pacific leaders in Beijing, Brodjonegoro said.
Indonesia was not one of the 21 countries attending the launch of the AIIB because Widodo had just come into office and had yet to decide on whether to join.
AIIB, in which China will hold a majority stake, aims to give project loans to developing nations like Indonesia.
The archipelago's limited infrastructure, with gaps in its network of roads, rails and ports, is seen as one of the main impediments to economic growth.
Washington has welcomed the bank with some reservations, saying it needed to meet international standards of governance and transparency. China has said the new bank would use the best practices of the World Bank and the Asian Development Bank.