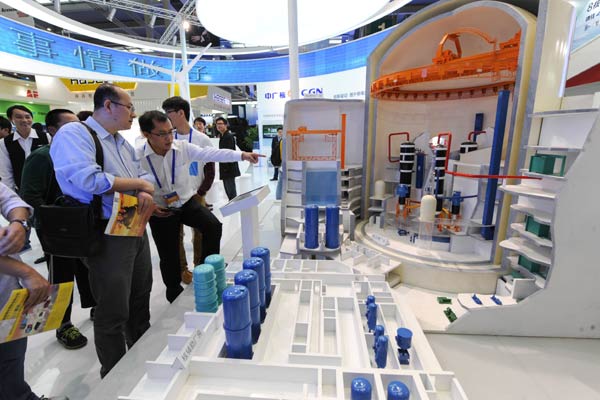 Visitors to a high-tech expo in Shenzhen examine nuclear power station models at the booth of China General Nuclear Power Corp. The Shenzhen-based nuclear giant established subsidiary CGN Europe Energy in June to explore the European renewable energy market.[Photo/Xinhua]
Deal will help nuclear giant's unit expand into European renewables
The European unit of China General Nuclear Power Corp is taking an 80 percent stake in three wind farms in the United Kingdom, where it hopes to expand in the renewable energy market.
The wind farms, owned by French electric utility company Electricite de France SA, will generate 72 megawatts of power, CGN said on Tuesday in an e-mailed statement.
"We won the project known as Clover through an open and competitive bidding process," the company said. It declined to provide financial details.
However, according to the Financial Times, the company-China's largest nuclear operator by installed capacity-will pay more than 100 million pounds ($157 million).
CGN, the Shenzhen-based nuclear giant, established subsidiary CGN Europe Energy in June to explore the European renewable energy market through investment, acquisition, construction, operation and management of power plants.
Chinese nuclear power companies have long sought to expand in Europe, where developed markets offer huge growth potential in the renewable energy sector including nuclear, solar and wind power.
Experts said that CGN's move was not solely motivated by the high returns from UK wind power stations. It was also a way to learn about operating such projects, including regulatory issues.
"Apparently, you have to learn the rules if you want to tap a foreign market, and an acquisition of wind farms is a nice way to know those practices. The deal sends a signal that (the company) means business here in the UK," a source close to the deal told China Daily.
He said that CGN's ultimate goal, however, is the UK nuclear market.
The British government said it is committed to the development of nuclear energy to provide a sustainable, low-carbon electricity supply, with a target of adding 16 gigawatts of installed nuclear capacity by 2030. It has confirmed a list of eight new sites deemed suitable for nuclear power stations by 2025.
So far, involvement by Chinese companies in foreign nuclear power projects has not been very satisfactory, because their participation has mostly involved project financing rather than the core business of designing, building and operating power plants.
Last year, the UK gave approval for CGN and China National Nuclear Corp, CGN's major rival in China, to invest in the $2.6 billion Hinkley Point C project for a combined stake of 30 to 40 percent. The project involves a two-reactor, 3.2-GW station led by EDF.
Chinese nuclear companies are seeking to take a controlling stake in another nuclear power plant in the UK.
In 2011, CGN set up a French branch in Paris as a springboard to develop its business in Europe.