Decision indicates that growth target for China next year could be lowered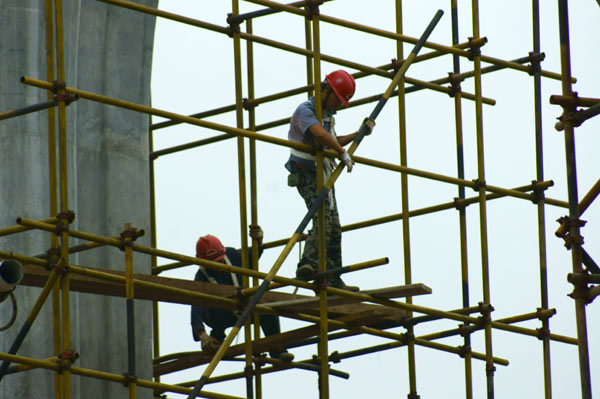 Migrant workers work at a construction site in Yichang city, Hubei province on August 6, 2014. [Photo/Asianewsphoto]
China must adjust its economy to a new norm and keep economic growth within a reasonable range, a top ruling body said on Friday, indicating that the growth target for next year could be lowered.
Assessing the country's economic situation, the Communist Party of China Politburo said China has entered a new norm, with good resilience, huge potential and plenty of room for the government to move.
A statement issued after the meeting said that China will continue to combine "stabilizing growth" and "pushing reform", and adopt an active fiscal policy and prudent monetary policy.
The meeting, held ahead of the annual Central Economic Work Conference, provided an insight into the top leadership's thinking on next year's economic agenda.
Analysts said the emphasis on a "new norm" suggests the top leadership will accept a lower GDP growth target next year, while placing more emphasis on structural reform.
"They have to set a lower target, given the reality. I think it could be around 7 percent, lower than the target of around 7.5 percent for 2014," said Zhou Jingtong, a researcher at the Institute of International Finance under the Bank of China.
"But they will also keep making micro-adjustments to prevent a sharp drop in the growth rate."
Bloomberg News said, "The language about a prudent monetary policy reiterated the government's previous stance, suggesting there won't be a major policy shift."
Weighed down by unsteady exports, a cooling housing market and slowing domestic demand and investment, China's economy this year has experienced its slowest rate of expansion for at least six years. Some economists expect annual growth to drop to a 24-year low of 7.4 percent.
The GDP growth target sets the tone for the government's policy stance. It is also the cornerstone for setting budgetary and other economic policy goals.
Tom Orlik, a North Asia economist at Bloomberg, said, "President Xi Jinping has hinted that 7 percent would be an acceptable growth rate, down from a target of 7.5 percent this year.
"Acceptance of a lower growth rate might dent some of the optimism in China's surging equity markets. But by taking some of the pressure off growth, it should allow policymakers to focus more on necessary reforms for the long term."
The statement after the meeting also said that China will deepen economic reforms next year as it seeks to boost domestic demand, and balance its flow of imports and exports.
The meeting also stressed the importance of implementing some regional strategies, including the Silk Road Economic Belt, 21st Century Maritime Silk Road, coordinated development of the Beijing-Tianjin-Hebei area and the Yangtze River Economic Belt.