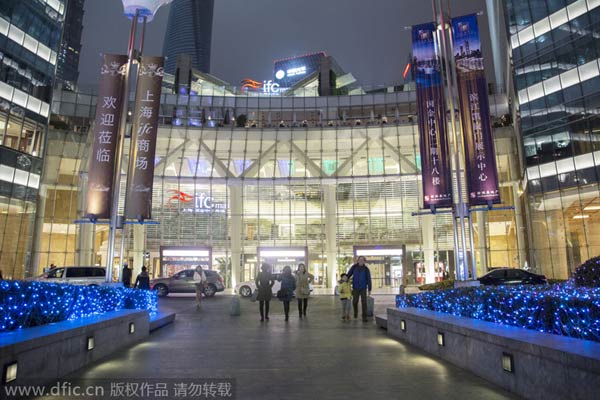 Shanghai IFC mall, Feb 13, 2014.[Photo/IC]
Shoppers are being tempted by an altogether more sophisticated offering, reports Wu Yiyao in Shanghai.
Despite the surge in online shopping in China, industry experts said there is still massive ongoing investment in commercial shopping space, as developers remain convinced that consumers will remain attracted to brick-and-mortar stores.
According to the latest estimates from Knight Frank, the global real estate consultancy and services provider, the combined floor space of all commercial shopping complexes in China will be 430 million square meters by 2016-the equivalent space of 1,800 Bird's Nest stadiums.
It also predicts that by the end of this year the country will have more than 880 urban commercial complexes, an increase of 24.47 percent year-on-year, and that number is expected to jump to 1,200 by 2018.
Other figures from CBRE Inc, the commercial real estate services provider, suggest that in the third quarter of 2014, aggregate prime retail supply amounted to 1.6 million sq m nationwide, a 57.9 percent quarter-to-quarter rise.
But within those growth numbers, experts are now suggesting that the strongest trend for shopping complex developers is to ensure there is an emphasis on offering a "shopping experience", with more food and beverage tenants opening up in complexes than ever before.
"The afternoon tea concept has really taken off as a way to encourage more sales between lunch and dinner times," said Eugene Tang, head of retail for Shanghai and East China.
"Coffee and tea shops serving light refreshments are highly sought after by landlords."
Higher proportions of food and beverage stores are being recorded in many cities, especially in larger ones such as Shanghai, Beijing, Wuhan in Hubei province and Chengdu in Sichuan province.
The 88 Yangguang Center, a shopping complex under renovation on Huaihai Road, one of Shanghai's busiest high streets, is allocating more than half of its space to food and beverage tenants, with fashion retail tenants accounting for just 34 percent of the space, according to its developer.
TWG Tea, a luxury brand of tea established in Singapore in 2008, said it had opened three branches recently in Grand Gateway, IFC mall, and iapm-three landmark Shanghai high-end malls.
"If there is something that you can't buy online, as well as stores there must be the ability to spend quality time around a table, to eat or just share a pot of tea," said Chen Jiaju, a 26-year-old information technology specialist, who said dining out is becoming just as important as doing the shopping itself.
Shopping malls have also responded to the fierce online competition by offering a range of onsite lifestyle activities, with experiential shops and recreational facilities particularly popular. The recent opening of more Apple Stores in second-tier cities and the debut of the Mars Retail Group's M&M's World store in Shanghai have attracted a lot of interest, for instance, setting a trend for many others to try and follow suit.
Sam Xie, senior director for CBRE Research East China, said that demand for multi-brand stores and online-buyer shops, as well as lifestyle-related outlets remain strong. "Retailers used to focus on expansion and store upgrading, but now they have turned to offering exclusive products and activities. This trend is most evident in the increasing numbers of multi-brand stores branching out into second-tier cities," said Xie.
Hypermarkets and specialty store operators, such as Suning Commerce Group Co and Ikea Group, have also launched shopping malls in response to the changing appetites of consumers, and at the higher end of the market, more affordable luxury brand stores are sprouting across China too.
"In the past when you thought about luxury, the first brands that came to mind may have been European heritage brands with century-long histories," said Zhou Ting, an expert on luxury brand consumption with Shanghai-based Fortune Character, a luxury lifestyle information provider.
"But now the brands are becoming more affordable for many Chinese customers, and demand is growing," Zhou said consumers are less likely than before to splurge huge amounts of money on a bag to show off that they can afford something expensive-now they care more about the product itself including its quality and what it represents.
Top fashion names such as Michael Kors, Kate Spade, Marc by Marc Jacobs have already become ubiquitous in many shopping centers nationwide, and almost all of them report fast growth in revenues.
Michael Kors said in 2013 that it planned to increase its store numbers to more than 100 by 2017, and in the first three quarters of this year it opened two stores in Shanghai.
Huang Weiwei, a 24-year-old Shanghai primary school teacher, said that the more affordable brands she can actually find in a store, the more often she will visit it, adding that shopping for her is now all about making the experience enjoyable.
Fair Fan, a senior researcher with DTZ East China, said Chinese consumers have quickly developed a new understanding of luxury goods. They used to love buying luxury brands such as handbags to show off to others-but now more are just as likely to buy bedding, fine tableware, and even quality ceramics, to enjoy themselves.