Offshore property investment soars
Updated: 2013-11-15 09:13
Chinese buyers seeking deals in Europe, Australia and the US
Chinese offshore property investment rose 25 percent year-on-year at the end of the third quarter, amid Chinese investors' growing appetite for overseas real estate deals, according to Jones Lang LaSalle Inc, a global real estate services and investment management company.
Chinese offshore commercial real estate investment volumes for the first nine months of the year have exceeded $5 billion, smashing the previous record of $4 billion for the whole of last year.
Offshore expansion is more impressive than the Chinese domestic investment market, which was up 17 percent quarter-on-quarter. Alistair Meadows, director of the international capital group for Asia Pacific at Jones Lang LaSalle, said that he has seen a robust momentum in the past 12 months.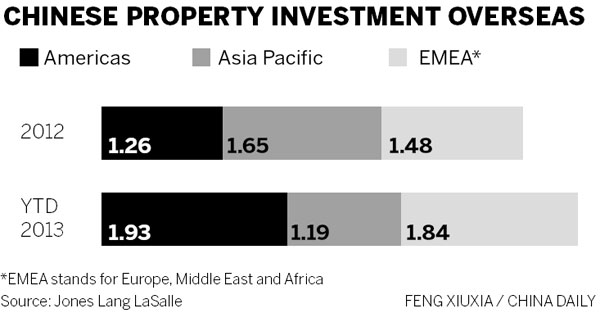 The Chinese government's measures to cool off the domestic property market, and the fact that investors are searching for asset diversification, are what's driving Chinese investors, institutional or individual, to bet on overseas property, analysts said.
The overseas real estate buying spree started with individuals picking up investment and self-use residential properties, and continued as developers snapped up prime development sites and insurers and sovereign wealth funds purchased prime assets and strategic property portfolios.
According to Meadows, at present, developers, insurers, sovereign wealth funds and individual buyers are evenly dividing the market pie, but each sector has its own purchasing preferences.
For example, while Chinese nationals are snapping up residential properties in pursuit of capital security, access to education and healthcare, permanent residency and citizenship, insurance companies seek prime-located offices and hotels for decent yields, usually around 5 to 6 percent annually.
Developers - sitting on abundant liquidity because of success in their home market - are looking to diversify their portfolios. They're mainly focusing on residential and commercial properties in gateway cities, such as London, New York, San Francisco and Singapore.
One of the latest examples is China Vanke Co Ltd, the largest Chinese property developer, which started its first residential project in North America with its US partner Tishman Speyer Properties earlier this year. Total investment reached the $620 million mark and it then spent $109.3 million to buy a 30 percent stake in a residential development project in Singapore.
And in July, China's Ping An Insurance Group surprised the world by agreeing to buy the Lloyd's building, a landmark property in London, for $388 million.
"Ping An's build up of activity will translate into more similar actions in the insurance industry in 2014," said Meadows.
The industry gained permission from the China Insurance Regulation Commission for overseas investment in 2012.
For this year, data from Jones Lang LaSalle showed that China's property investment has been most active in Europe, the United States, Australia and Singapore.
The American market has attracted $1.93 billion in Chinese investment, 53 percent more than last year's transaction volume. By contrast, Europe saw a 25 percent increase. Analysts said the American market saw a huge jump because there are more accessible investment opportunities.
"Europe was an early focus for the Chinese investors with a number of deals in the United Kingdom over the last three years. This has continued in 2013, but the focus has widened, and we have seen deals occur right across continental Europe with increased investor interest in southern and central Europe," said David Green-Morgan, research director of global capital markets at Jones Lang LaSalle.