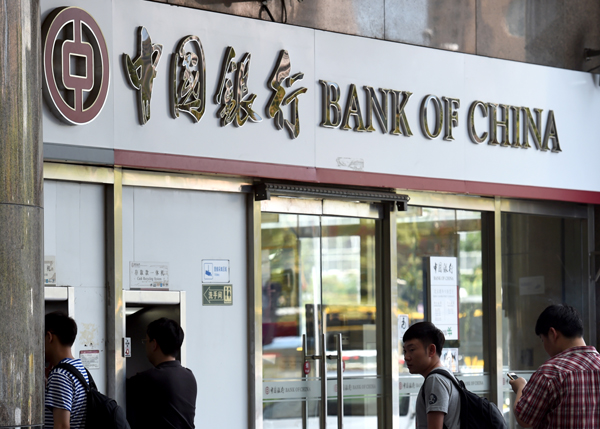 People wait outside a Bank of China branch in Beijing on July 11, 2014.[Photo/Agencies]
BEIJING - The People's Bank of China (PBOC), China's central bank, on Tuesday appointed Bank of China, one of the country's big four lenders, to clear yuan transactions in Sydney, Australia.
The PBOC signed a memorandum of understanding (MoU) with the Reserve Bank of Australia on Monday in the Australian capital Canberra, authorizing the Sydney branch of Bank of China to clear yuan transactions, said the PBOC website.
Under the agreement, China will also grant Australian banking institutions a 50 billion yuan ($8.2 billion) quota under the renminbi qualified foreign institutional investors (RQFII) program and increased the maximum amount the Reserve Bank of Australia is allowed to invest in China's interbank bond market to 10 billion yuan.
So far this year, China has reached agreements with Germany, Britain, France, Luxembourg, South Korea and Canada to open local yuan trading centers.
China is Australia's largest trading partner, export market and source of imports. Two-way trade reached 136.4 billion dollars in 2013, a year-on-year rise of 11.5 percent.
Related news
Bank of China NZ subsidiary to register as a bank
Bank of China eyes yuan clearance in Prague
Bank of China posts lower Q2 profit
Lender targets cross-border business