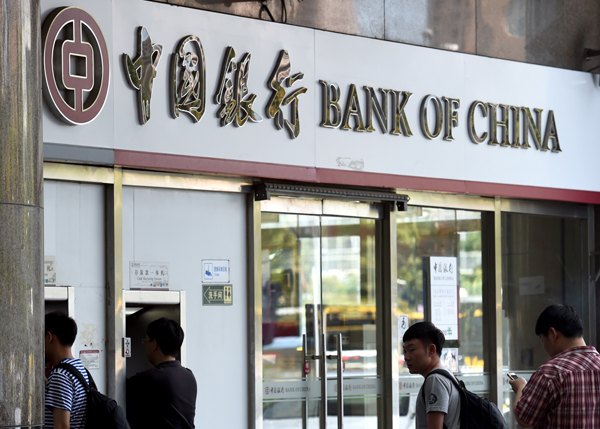 People wait outside a Bank of China branch in Beijing on July 11, 2014. [Photo/Agencies]
Bank of China Ltd is making strenuous efforts to develop its cross-border renminbi business, part of its drive to expand non-interest income as it faces the dual challenges of a contracting interest rate margin and the increasing risk of bad loans.
Overseas assets increased by 21 percent to $765.3 billion at the end of June, compared with Dec 31, 2013, accounting for 28 percent of its total assets, bank President Chen Siqing told a news conference in Beijing on Tuesday.
The bank has become the world's largest participant in the offshore yuan market.
Its cross-border yuan-denominated settlements rose by 63 percent to 2.79 trillion yuan ($454.3 billion) in the first half of the year and cross-border yuan clearing transactions hit 112.5 trillion yuan, up 99 percent. During the period, the bank helped domestic companies expand abroad by extending loans of $102.8 billion for 1,187 projects, up 26 percent by value year-on-year.
Vice-President of the bank Yue Yi said that the bank will continue to develop its overseas businesses and bring the domestic and overseas markets together.
"We will grasp the opportunity of the currency's internationalization provided by the government to build a leading cross-border yuan system," Yue said.
The bank will strengthen its advantage in cross-border yuan activities and aim to become a market maker for foreign exchange transactions, he said.
China announced a pilot program in April, allowing cross-border stock trading between the Hong Kong and Shanghai stock markets, known as Shanghai-Hong Kong Stock Connect.
Ren Deqi, also a vice-president, said BOC International (China) Ltd is participating in tests of the program led by the Shanghai Stock Exchange and hopes to join the first group of providers for the program. The bank plans to launch a one-stop cross-border investment service in October.