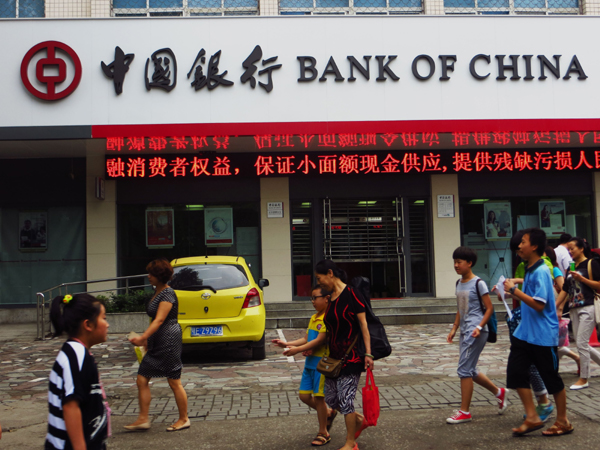 A Bank of China branch in Yichang, Hubei province. China's top five banks will raise 128 billion yuan ($20.8 billion) over a two-week period. Zhou Jianping / For China Daily
China's top five banks will raise 128 billion yuan ($20.8 billion) in a two-week bond offering spree following a yearlong hiatus, as regulators signal a willingness for lenders to aggressively tap fixed-income markets.
The country's banking regulator began phasing in new higher capital adequacy requirements last year, in line with global rules known as Basel III, and aggressive implementation of the third Basel accord is a key element of China's plan to fortify banks against risks from a slowing economy.
China Construction Bank Corp and Agricultural Bank of China Ltd, the country's second and third-largest banks, respectively, have announced plans to raise 50 billion yuan worth of Basel III-compliant Tier 2 capital via domestic bond issues on Friday.
Bank of Communications Co Ltd, the country's fifth-biggest lender, plans to raise 28 billion yuan on Monday.
The issues follow two large offerings last week, the first from the country's top five banks since early 2013 and China's transition to Basel III.
Industrial and Commercial Bank of China Ltd and Bank of China, the country's largest and fourth-largest lenders, together offered 50 billion yuan of bonds last week.
The flurry of offerings shows Chinese regulators have signed off on the giant deals despite their potential drain on market liquidity, and are comfortable with the new Basel III-compliant bond structure, sources told IFR Asia, a Thomson Reuters publication.
China's economy showed further signs of softening in July despite a burst of government stimulus measures, and banks have tightened lending to risky areas such as the property sector.
The government embarked on a massive credit-fueled economic stimulus program from 2008 to 2010 to pull the economy through the global financial crisis. Many analysts expect a large portion of bank loans extended during that time to turn sour.
The fundraising spree still leaves China's top lenders lagging regional counterparts.
Asian banks (excluding Japan and Australia) have raised more than $32 billion in Basel III compliant securities to date, which includes $26 billion issued in 2014, in local and international markets, according to Moody's data.
Steven Chan, a banking analyst at Maybank Kim Eng, a Singapore-based research firm said the amount being raised was small viewed against the assets of China's top lenders. "It's very small compared with the trillions of assets," he said.