Senior officials from the Asia-Pacific Economic Cooperation economies have agreed to launch a strategic study of proposals for a regional free trade zone, it was revealed on Thursday.
The study of the Free Trade Area of the Asia-Pacific concept will last around two years, the forum's top official said.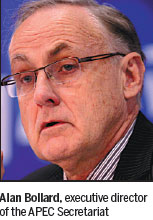 "The whole process through the year has been about understanding what FTAAP might mean, how it might get there, how long it might take, and how it might fit in with these other under-negotiation trade agreements," Alan Bollard, executive director of the APEC Secretariat, said in Beijing.
He was referring to two other proposed free trade pacts that are under discussion. The Trans-Pacific Partnership plan is championed by Washington and does not include China, while the Regional Comprehensive Economic Partnership is being promoted by the 10-member Association of Southeast Asian Nations.
APEC wanted to see whether TPP and RCEP are "likely to converge toward something which would be in the direction of an FTAAP", Bollard said.
"Or could they send economies off in different directions? APEC would like to see them converging. And this study will help give us directions about whether that's happening or not," he added.
A free trade zone deal remains at the "top of the agenda", the former head of New Zealand's central bank said. But he stressed that "this is not an opening of negotiations".
Plans for the study will have to be approved by ministers and heads of government at the APEC economic leaders' meeting. APEC does not produce legally binding rules.
The idea of a far-reaching trade pact such as FTAAP, first raised in 2006 by APEC leaders, has increasingly been favored and pushed by China. But the United States' preoccupation with the TPP negotiations has cast doubts on how much effort the region's major economies would put into the FTAAP proposal.
Wang Shouwen, the assistant minister at China's Commerce Ministry, said on Tuesday that a road map for the establishment of the zone is expected to be rolled out during next week's APEC economic leaders' meeting in Beijing.
He stressed that the FTAAP concept was not proposed by China, but was the result of a consensus reached by all 21 APEC member economies.
Wang said China believes FTAAP would help to integrate existing agreements. More than 50 bilateral, trilateral and multilateral agreements covering free trade zones have been implemented by economies in the APEC region.