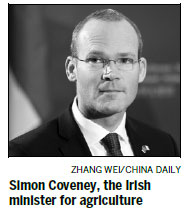 The nation is expected to open its doors to Irish beef in the first half of next year, further consolidating the end of a 14-year ban on European beef, Ireland's top agricultural official said on Monday.
Leading a trade mission to the country, Simon Coveney, the Irish minister for agriculture, food and marine, said he expects Irish exports of beef products to China will be given the green light after a stringent audit of the products by Chinese authorities next month.
"I am confident that our beef factories will pass all the tests, and hopeful the all-clear will be given to the Irish beef industry to export to China," he said.
China has banned Irish and other EU, and US meat since 2000, because of the outbreak of BSE, known as mad cow disease.
Also on the agenda during his visit has been the promotion of Irish dairy, pork and marine products.
The minister said food and drink exports to China are expected to be worth more than 500 million euros this year, and he expected that figure could increase as much as 10-fold over the next decade, with dairy driving most of that growth.
He said Ireland has the enviable international reputation as being one of the few places where one can monitor dairy products all the way back to the cow. However it still trails international rivals in terms of market share in China.
New Zealand's Fonterra Co-operative Group Ltd dominates the Chinese imported dairy sector, and companies from Denmark have also been quick to gain a foothold in the market.
But with the signing of a joint agreement between the Irish company Glanbia, an international dairy, consumer foods and nutritional products company, and Shanghai-based Bright Foods Group to produce infant formula for the Chinese market, as well as other agreements in the food service sector, Coveney said his country's dairy production should receive a significant boost.