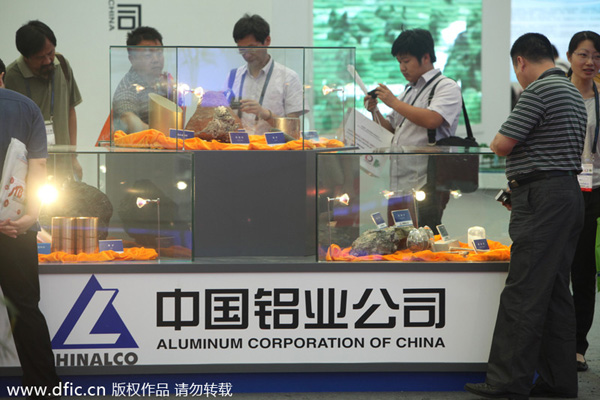 People visit the stand of Chinalco (Aluminum Corporation of China) during an exhibition in Shanghai, July 14 2011. [Photo/IC]
Aluminum Corp of China (Chinalco), the nation's biggest producer of alumina, has appointed Ge Honglin, mayor of Chengdu, as chairman, replacing Xiong Weiping, who led the company since 2009.
The decision was announced on Monday afternoon during a corporate conference.
Ge, born in 1956, worked in the steel industry for 19 years before he entered politics. He was appointed as mayor of Chengdu in August 2003.
Before that, he was deputy general manager and director of Baosteel Group, the owner of China's biggest listed steel producer. He was also the head of Baosteel's research institute at the time.
Xiong, 58, became head of Chinalco five years ago. He was the deputy general manager of the company from 2000 to 2006. In June 2006, He was appointed as vice-chairman and president of China Travel International Investment Hong Kong Ltd.
In February 2009, he returned to Chinalco as general manager and became chairman in 2013.
"Chinalco has been through the severe challenge of the financial crisis and faced an extreme overcapacity problem in the domestic market," Xiong said during the conference. "The company has adopted management reforms to improve its businesses structure and operations, as well as fight corruption."
Xiong said in an earlier interview that Chinalco has "huge" difficulties that outsiders can hardly imagine.
In 2012, Chinalco lost more than 8 billion yuan ($1.31 billion). In 2013, the company returned to the black with a net profit of 948 million yuan.
During the first half of this year, Chinalco was back in the red, with a loss of 4.1 billion yuan, caused partially by the declining price of aluminum.
The authorities did not announce the future position of Xiong on Monday, saying only that he will be assigned another "important position".
Insiders said that Xiong will be appointed chairman of the supervisory board of the State-owned Assets Supervision and Administration Commission, the government commission in charge of administering large State-owned enterprises.
Chinalco is attempting to transform itself from an aluminum producer to a comprehensive mining group with a market orientation.
Aluminum assets have been reduced from 90 percent previously to 46 percent at present. Sales of aluminum contributed only 40 percent of the total last year.