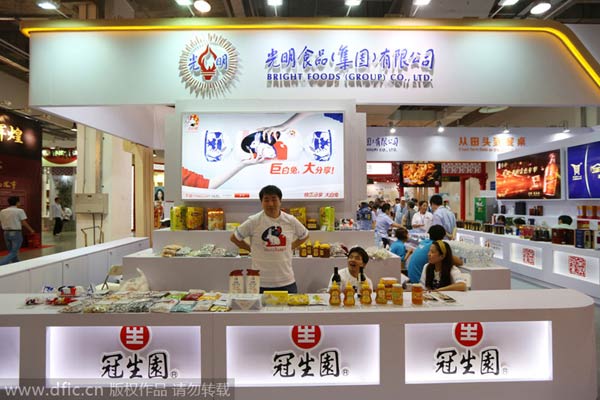 View of the stand of Bright Food (Group) Co Ltd during a Chinese traditional brand exhibition in Shanghai, China, September 26, 2014. [Photo/IC]
BEIJING - Shanghai-based Bright Food Group has bought a majority stake in Italian olive oil producer Salov Group, the company announced on Tuesday.
Shanghai Yimin No 1 Food Factory, a subsidiary of Bright Food, signed the deal with the Fontana family in Milan on Oct 1, according to a statement published on the buyer's website.
Both sides did not reveal details of the acquisition. They can not be reached for comments now.
Bright Food is a big name in dairy industry as well as categories of rice, pork and vegetable in China. It now has four listed subsidiaries.
In the online statement, Bright Food promised to stick to Salov's values and missions and help promote its development in China.
Salov operates mainly in olive oil and other vegetable cooking oil. It distributes products under the Sagra brand name in Italy and Filippo Berio in overseas markets.
The oil maker currently markets its products in over 60 countries including China and maintains a leading position in Britain and the United States.
Olive oil has won favor with Chinese consumers as the country's growing middle class are caring more about food quality and health. China's market potential is estimated to be great due to huge consumer base and the special way of cooking.
The tie-up with Salov is Bright Food's latest move to go global. In 2011, the group bought a 75-percent stake in Australian food company Manassen. In 2012, it bought 60 percent of British food maker Weetabix. Its acquisition of Israeli food company Tnuva is still underway.