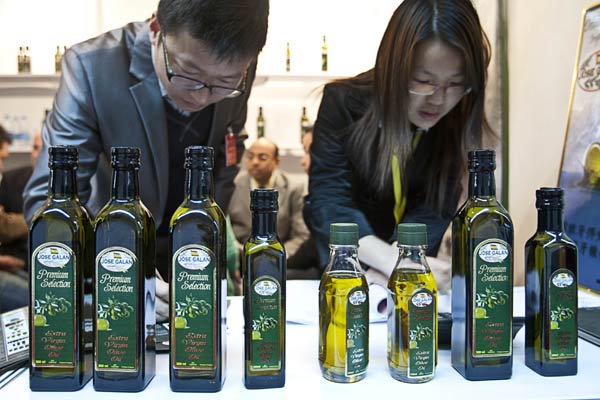 The volume of olive oil consumed by China has increased by 195 percent to 43,400 tons last year from 14,700 tons in 2009. CHINA DAILY
Mediterranean olive oil companies scent huge market opportunities
Zhang Min would be very happy to be able to buy a 250-milliliter bottle of Spanish olive oil for what he pays for a 2,500-milliliter bottle of peanut oil.
For the 34-year-old human resources specialist at a multinational company in Beijing, that would be a good deal. Zhang thinks of olive oil as "liquid gold" that has many more health benefits than traditional Chinese cooking oils such as soybean, peanut and palm oils.
"Despite the high price, I still would like my family to have it for health reasons," Zhang says.
Vegetable oils are widely used in Chinese recipes, but olive oil is not used in traditional Chinese cooking. It has caught on only over the past few years. Like Zhang, a growing number of Chinese with rising incomes are acquiring a taste for olive oil, fueling spending on imports and spurring overseas companies to bet big on the promising market.
Since China's geography is unsuitable for the mass production of olives, almost all of the olive oil sold in the country is imported. Major exporters to China are Mediterranean countries, including Greece, Spain, Italy and Turkey.
According to statistics from the Madrid-based International Olive Council, the volume of olive oil consumed by China has grown rapidly, from 14,700 tons in 2009 to 43,400 tons in 2013, an increase of 195 percent.
"Chinese demand for olive oil will continue to grow. The message that olive oil is healthier than other oils is well accepted by Chinese, which is vital given the importance attached by the Chinese consumers to health and wellness," says Jean-Louis Barjol, executive director of the organization.
He says Chinese consumers are increasingly health conscious, and promotion campaigns for olive oil in China during the past few years are bearing fruit.
"Many television advertisements released recently by Chinese olive oil importers - and campaigns led by export countries' trade-promotion bodies to explain the uses of olive oil - have resulted in an increase in sales," Barjol says, including orders from supermarkets in larger cities that sell imported foods.
However, olive oil accounts for only 1 percent of total edible oil consumption in China, the Spanish Institute for Foreign Trades says. Statistics from the organization show that Spain is the largest olive oil exporter to China, with a market share of about 60 percent.
With 2.5 million hectares of planted area and 310 million olive trees, Spain contributes more than half of the world's total olive oil production. It shipped 26,402 metric tons of olive oil to China last year, says the International Olive Council.
Eager to grow market share in China from their rivals from Italy and Greece, Spanish olive oil companies have decided to jointly promote their products.
Amparo Chozaz, assistant managing director of the Spanish Olive Oil Exporters Association in Madrid, says they spent 4.5 million euros ($6 million) on popular cooking programs featuring Spanish olive oil on Chinese TV stations, commercial websites and magazines. They also held national food events to boost their olive oil exports to China last year.
"We found people in China are more inclined to buy extra-virgin olive oil, which does not require refining and is 20 percent more costly than refined olive oil."
Extra-virgin olive oil is "produced entirely by mechanical means without the use of any solvents, and under temperatures that will not degrade the oil," according to Oliveoiltimes.com. It must pass chemical and taste tests.
Chozaz says although Chinese have not traditionally used olive oil for cooking or as a dressing on their food, and while most Chinese consumers lack the knowledge to differentiate between types of olive oils, people still are learning that olive oil is healthy and gives their food a distinctive taste.
While major exporters are eager to maintain their foothold in China, other olive oil producing countries are mapping strategies to make inroads in China as the boutique food industry expands.
"The present olive oil boom in China is just a drop in the ocean of more than 1.4 billion Chinese people. Although some countries have entered China much earlier, we still have plenty of opportunities," says Hanane Zehrouni, export manager of Lesieur Cristal, a Moroccan company that is a subsidiary of the French firm Lesieur Co.
Zehrouni says the North African company is looking to gain a presence in China.
"We were not well equipped a few years ago to go to China because it is a huge market, but now we have greater production capacity. We have the ambition to export 15,000 to 20,000 tons of olive oil in the next five years to Asia-Pacific areas," Zehrouni says, adding that the company hopes to do well especially in big Chinese cities like Beijing and Shanghai.
Zehrouni says the quality of Moroccan olive oil is well known in Europe because of its taste. She says Moroccan olive oil has been purchased and sold for years under the labels of European companies. But her company's dilemma is how to convince Chinese customers to buy its branded products.
"Chinese importers are not familiar with olive oil made by Morocco. They are used to buying from Italy and Spain, and they think their products are of the best quality," Zehrouni says. "The Moroccan product is at least of the same quality. A lot of European companies buy in bulk from Morocco and put on their own label and sell the oil everywhere, to the United States, China and anywhere in the world.
"The difficulty for us is that Morocco has been rather late in its market-promotion efforts. Italian and Spanish companies already have a head-start in China. They have told the Chinese consumers that their products are the best, so we need to do a lot in marketing and convince the buyers."
But she says she has confidence in her company's product quality and some Chinese dealers already are showing an interest.
"We want more distributors in China to try our products and promote them in the country."
Industry experts believe with the increase in Chinese people's incomes, and an increase in the number of people concerned about healthy eating, the demand for more sophisticated food will continue to increase in China, says Fan Jiliang, deputy secretary general of China Vegetable Oil Industry Association.
"While for now olive oil occupies only a tiny fraction of the Chinese edible oils market, with the proper publicity and adaptation to local culinary customs, there is enormous potential for expansion of olive oil in China," Fan says.