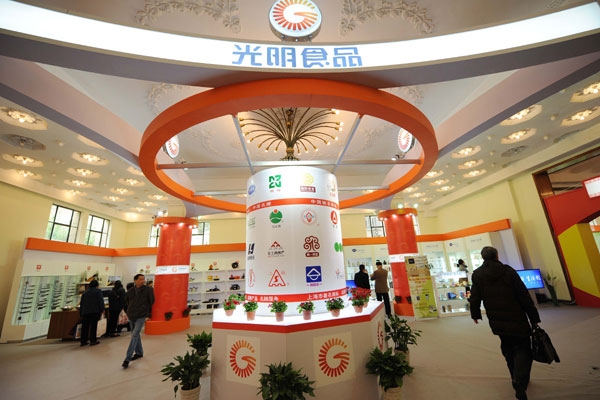 Bright Food (Group) Co Ltd's display at a trade show in Shanghai. Provided to China Daily
Tnuva acquisition to beef up Chinese conglomerate's foreign asset portfolio
Bright Food (Group) Co Ltd, China's second-largest food vendor, announced on Wednesday it is acquiring a majority stake in an Israeli counterpart, demonstrating its commitment to overseas expansion.
The purchase from London-based private equity fund Apax Partners, will give Bright Food a 56 percent stake in Tnuva, Israel's largest food company, Bright Food spokesman Pan Jianjun told China Daily.
Pan did not disclose financial details, saying it is a "preliminary a
gree
ment" and still subject to relevant government approval. But The Wall Street Journal said last September that the deal may be worth as much as $2.43 billion.
"Bright Food will maintain Tnuva as an Israeli company and will continue to partner with all its stakeholders, including employees, clients, farmers and the Cattle Breeders Association to best serve the Israel consumer," Bright Food said in a statement.
The cooperation will deliver an international platform for Tnuva's future development, it added.
Tnuva, whose products include cottage cheese and dairy products found in almost every Israeli refrigerator, controls about 14 percent of shelf space in the country, according to Apax's data.
China's imported dairy products will exceed 20 percent growth in 2014 as continued urbanization pushes up demand and a lack of large dairy farms limits supply, according to a study by Rabobank Nederland in March.
Bright Food commands a 5.7 percent share of China's 174 billion yuan ($28.5 billion) dairy market and ranks fourth in the domestic market, according to Euromonitor International.