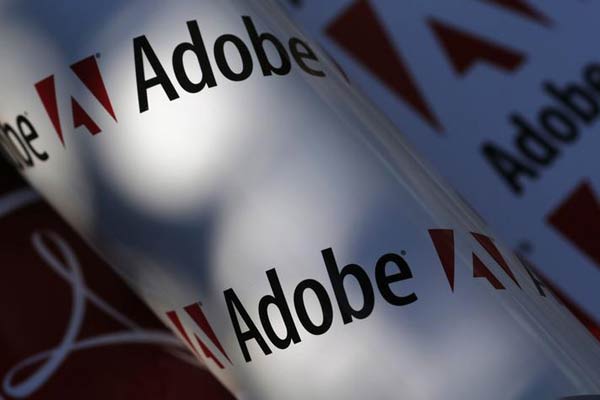 Adobe company logos are seen in this picture illustration taken in Vienna July 9, 2013. [Photo/Agencies]
An estimated 400 local employees are expected to receive pink slips
Adobe Systems Inc, the US multinational computer software company, announced on Wednesday that it will shut down its research and development facility in China, a move expected to result in laying off hundreds of employees.
The California-based company said it will focus on market expansionin China and therefore made the decision to close its China R&D branch, which is set to be shuttered by the end of December.
Adobe said it will retain its sales teams in Shanghai, Beijing, Guangzhou, Shenzhen, Hong Kong and Taiwan.
The company said the decision was part of a restructuring plan to consolidate its global R&D team. Since 2012, Adobe has merged R&D from 80 sites to 56 sites globally.
"Adobe's cloud business is based on continuous innovation. We need our R&D team to work at a consolidated number of sites in order to improve efficiency and boost realtime collaboration,"
Donna Morris, senior vicepresident of human resources with Adobe, said in a statement to China Daily.
"It is a difficult decision. It has nothing to do with our R&D team's performance. As a matter of fact, our team has made outstanding achievements," she said. The majority of the R&D and tech work done by the Chinese team will be shared by facilities in other countries.
Adobe said in its statement that the decision will have no impact on its R&D investment. It will continue to invest more than 20 percent of its resources annually on R&D.
The announcement makes Adobe one of the latest multinational IT companies to eliminate fulltime positions in China. Adobe refused to reveal the exact number of jobs to be cut, but the Chinese media reported on Wednesday that hundreds of spots will be eliminated.
According to caixin.com, about 400 employees of Adobe China received email notices on Tuesday afternoon to attend ameeting near the company's Beijing office in Tsinghua Science Park. The meeting, which was reportedly held Wednesday morning, lasted about 15 minutes, during which the downsizing was spelled out.
In August, Microsoft Corp announced its biggest cuts in the company's history, which could mean the loss of at least 4,000 jobs in China. Most of the cuts were at three Nokia facilities the company acquired months ago.
Cisco Systems Inc, the world's largest telecom equipment maker, also plans to cut up to 6,000 employees globally. It did not say how many of the targeted positions are in China, one of the world's biggest IT consumers.
Bryan Wang, China principal analyst at Forrester Research, an independent technology and market research company, said that multinational companies have been investing broadly inChina over the past several years.
"When returns on their investment can't meet their expectations, there is thepossibility for them to change strategies in China," Wang said.
He cited Google Inc as an example, saying the company doesn't have direct operations in China but keeps its R&D team in the country to serve its global needs.
"In terms of the software market in China, there is increasing interest from customers in the country, and there is growing awareness to buy authorized software. But the interest and awareness may not translate into real revenue yet," said Wang.