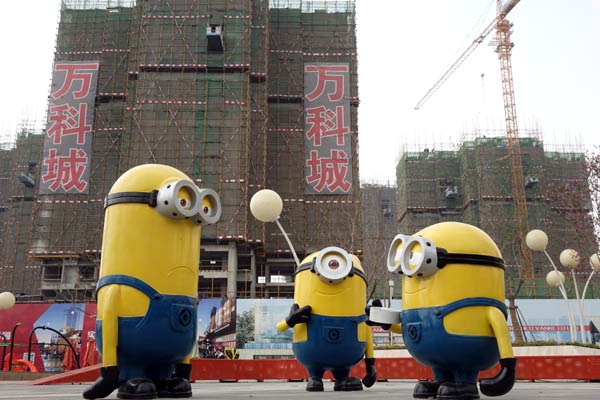 People dressed like Minions from the movie Despicable Me promote a China Vanke Co property project in Zhengzhou, capital of Henan province. The company's Suzhou branch is offering an apartment of 100 square meters in an online auction.CHINA DAILY
Developer goes online to offer 'crowdfunded' apartment in Suzhou
China Vanke Co, the country's biggest developer by sales, has again turned to online marketing with an unusually structured home auction that is getting a mixed reaction.
In what the company is calling a "crowdfunding" program, its Suzhou branch is offering an apartment of 100 square meters in an online auction. Investors who "crowdfund" the project by donating at least 1,000 yuan ($163) can participate in the auction.
The ceiling for crowdfunding for the unit has been set at 540,000 yuan.
That will also be the floor price in the auction, and failed bidders can share any premium above that level after the unit is sold.
Vanke said the market value of the unit is 900,000 yuan, so 540,000 yuan is equivalent to a 40 percent discount.
But the auction has not yet started and it is not sure whether the unit will be sold at 900,000 yuan, so analysts said they do not know how Vanke can claim investors could get a minimum return of 40 percent.
"I do not know how the '40 percent return' was calculated. Besides, Vanke is just offering one home. It is hardly a 'campaign'," said Zhu Yiming, a senior analyst with China Real Estate Information Corp, a subsidiary of E-house (China) Holding Ltd, a real estate agent and consulting firm.
The marketing stunt comes a month after Vanke created a stir online by teaming up with China's largest e-commerce company Alibaba Group Holding Ltd to offer discounts to home buyers who also shopped on the company's Taobao marketplace.
At that time, Vanke offered maximum discounts of 2 million yuan on select properties if the home buyer had spent more than 2 million yuan on Taobao in the previous year. Other rebates were available to those who had spent lesser amounts.
Vanke's Hangzhou branch launched that campaign and branches in other 11 cities joined in.
These marketing innovations have been made feasible because the company this year granted its city branches autonomy to devise their own marketing tactics in line with local conditions.
These tactics have drawn applause from some observers who see them as a sign of developers' willingness to tap into e-finance, a buzzword in China.
But there are critics as well, who said these are merely publicity stunts that offer little real benefit to consumers.
In August, Ding Zuyu, executive president of E-house, criticized Vanke's marketing practices in Xi'an, where its ads claimed that "everyone can be a housing agent".
Ding said that such practices violated minimum industry standards.