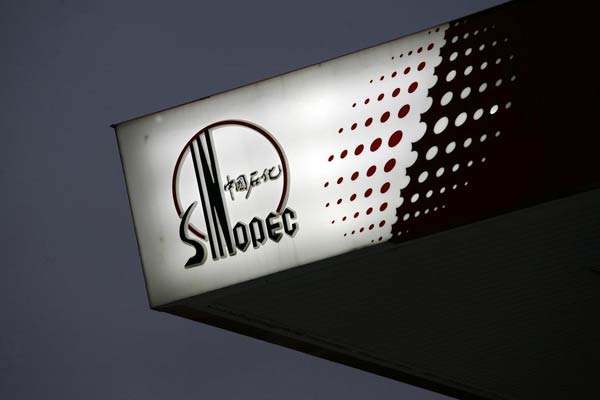 Sinopec's logo is seen at one of its gas stations in Hong Kong in this April 26, 2010 file picture. [Photo/Agencies]
Refiner takes the lead in pioneering the opening-up of State-owned enterprises, reports Du Juan.
Oil and natural gas giant China Petroleum and Chemical Corp (Sinopec) is leading the country's latest round of State-owned enterprise reform as it explores an innovative way to increase the value of national assets.
The crude refining conglomerate announced plans to sell a stake valued at 107.1 billion yuan ($17.5 billion) in its retail business to 25 investors that hail from a range of domestic and foreign industries.
According to a recent company statement, these investors will have a combined 29.99 percent stake in the retail unit, which includes a wholesale business, more than 30,000 gas stations with 23,000 convenience stores, oil pipelines and storage facilities.
After the sale, the equity value of Sinopec's retail unit will reach 357.1 billion yuan, above market expectations of 300 billion yuan.
Sinopec spokesman Lyu Dapeng said the transaction will be the world's biggest merger and acquisition deal this year and it will create a mixed-ownership structure.
The move is a response to the central government's call to sectors dominated by SOEs to be more open to private investors.
Lyu said bringing private investors into its retail sector is just the beginning.
Recently, the company announced that it would, for the first time, recruit professional executives, a signal that it would focus more closely on capital management. Chairman Fu Chengyu said that move would push forward the reform of SOE management.
Among the 25 investors, 12 are domestic companies that will invest 59 billion yuan of the total. Eleven of those companies are private capital investors that will jointly invest 38.29 billion yuan, accounting for 35.8 percent of the total. China Asset Management Co Ltd will invest 8.15 billion yuan for a 2.28 percent stake in the retail unit through two overseas subsidiaries.
Harvest Fund Management Co Ltd, one of China's biggest asset managers, will invest 5 billion yuan for a 1.4 percent stake. It has set up a new 10 billion yuan fund called Harvest Yuanhe, and half of that amount will be invested in the Sinopec stake, said Harvest Fund on Tuesday. The rest will be used to buy fixed-income securities.
Zhao Xuejun, general manager of Harvest Fund, said the fund will help investors benefit from SOE reforms.
Harvest Yuanhe is the first closed-end fund approved by the China Securities Regulatory Commission in 12 years.