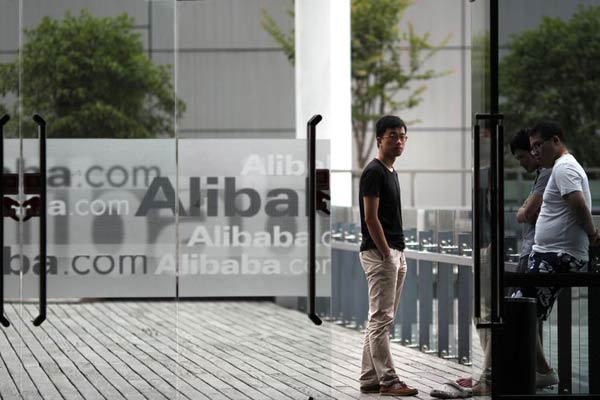 Employees stand next to a glass door with logos of Alibaba during a media tour organised by government officials at the company's headquarters on the outskirts of Hangzhou, Zhejiang province, in this June 20, 2012 file photo.[Photo/Agencies]
Alibaba's record-setting initial public offering on Friday will give the online group a huge war chest that can help its global expansion, experts said.
Alibaba has already boosted the price range this week for what was expected to be the biggest stock offering on record, and will raise as much as $25 billion.
Based on the new price, Alibaba would have a market value of $163 billion to $168 billion.
Watershed moment
Warwick Business School professor Wang Qing, who researches Chinese enterprises, said the IPO could be a watershed moment.
"Alibaba's IPO could well be the end of US dominance in the world technology sector," Wang said.
"Alibaba's annual growth rate of more than 30 percent shows that the gap between the Chinese companies, Alibaba and Tencent, and US companies is getting ever smaller."
Wang said Chinese firms like Alibaba need to be "highly entrepreneurial and market-oriented" and that this will serve them globally.
The research firm PrivCo said Alibaba, set to launch at $66 to $68 a share, is probably worth a lot more-as much as $100 a share or $240 billion-because of its "substantial and largely underreported string of private company stake purchases and acquisitions, which the data shows have only been growing in size and pace in recent years."
Other analysts were skeptical.
"Despite its dominance in China, Alibaba won't be sweeping away US market share in the near future," a Forrester Research report said this week.
"Rather, it will take a major acquisition or a number of years for Alibaba to pull together a platform that could compete with major players like Amazon, Apple, eBay, and Facebook."
China model
Trip Chowdhry, an analyst at Global Equities Research, said the formula for success in China may not work elsewhere.
"Alibaba has been widely successful in China by imitating successful global companies like Amazon, Google, PayPal and their offerings," Chowdhry said. "For Alibaba to be successful outside China, Alibaba has to out-innovate Amazon, Google, Facebook, Twitter and other global companies-and so far we have not seen innovation from Alibaba."
A US government panel has warned of risks to investors because of a complex corporate structure-Alibaba is registered in the Cayman Islands and controlled by a partnership through a series of shell companies.