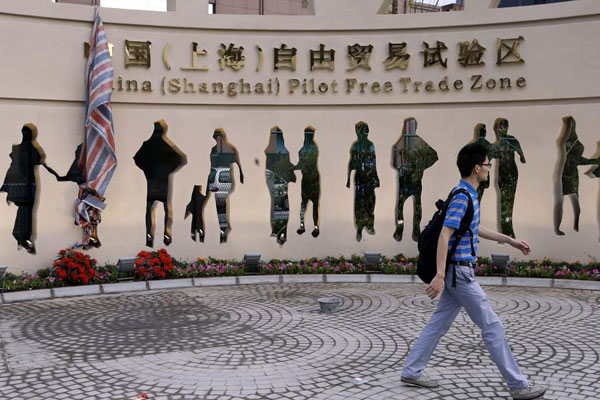 The name plate of the China (Shanghai) Pilot Free Trade Zone on a gate of the Waigaoqiao free trade zone in Shanghai. ZHAO YUN / FOR CHINA DAILY
The list of off-limit areas for foreign investment in the Shanghai Free Trade Zone will be further slashed, Premier Li Keqiang said on Thursday, a pledge experts said signals the government's determination for further opening up.
The remark, amid a decline of foreign direct investment into China, is expected to ease mounting foreign businesses' worries that China's is closing its door to them, experts said.
"The negative list reduces government intervention and gives the market more space to stretch its muscles. We ought to further cut the negative list," Li said during a visit to the Shanghai FTZ on Thursday.
Earlier this year, the pilot zone slashed a quarter of the off-limit areas from its negative list, giving more freedom for investment in financial, education, medicine and cultural sectors. In addition, the number of government documents setting limits on investment and business operation in the FTZ has also been cut from 186 to 35.
The 29-square-kilometer zone was meant as a model to open up and implement the boldest reform measures in decades, including currency liberalization, market-determined interest rates and free trade.
The premier also said China should treat local and foreign firms equally in the FTZ. He made similar remarks during a trip to Tianjin last week to reassure foreign enterprises, which are unsure whether they are still welcome.
Li Wei, an economist at Standard Chartered Bank, said a shorter negative list will provide more opportunities for foreign investors. "The move is expected to help foreign companies that are facing challenges such as increasing costs and a slowing economy. It will also be conducive to the reform of State-owned enterprises as it brings more competition."
The premier said the current negative list still has too many restrictions, especially in the financial sector, and there might not be a breakthrough in the short term as there are too many risks and too much resistance.
Du Yuchuan, general manager of a company that provides corporate registration services, said the benefits of the FTZ's financial reform are "yet to be seen".
"One of the financial reforms is about the capital flow between domestic and overseas bank accounts, but the reform measure does not provide details for implementation. Bank officers are not clear on how these reform measures should be carried out," Deng said.
"Many clients asked if the FTZ offers tax refunds, to which I said 'no'. The FTZ should not be a place for favorable policies such as tax cuts. It should be a test for facilitated customs clearance and the yuan's internationalization," he said.