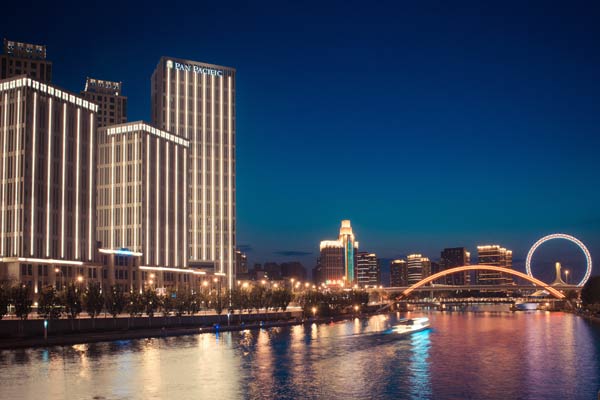 The five-star Pan Pacific hotel stands alongside the Haihe River in Tianjin. CHINA DAILY
Singapore signed 22 projects worth S$850 million ($672.7 million) with Tianjin in the first eight months this year, and the little Southeast Asian nation is now the municipality's fifth largest foreign investor.
Tianjin's shift towards a market-driven economy is the motivating factor in the boom of business cooperation between Singapore and Tianjin, says Khaw Boon Wan, Singapore's Minister for National Development, during the seventh Singapore-Tianjin Economic and Trade Council meeting held in Tianjin recently.
Investments by Singapore companies in Tianjin increased by three percent last year to a total value of $940 million.
"Tianjin reforms open more doors for Singapore firms," says Khaw.
"Singapore companies attach more attention to investment opportunities in modern service sector, environmental protection, high-technology, health care and education sectors," the minister adds.
The hospitality industry is an example.
Singapore-based Pan Pacific Hotel Group is ready to launch a five-star hotel and serviced suites in October. It will be the fifth Pan Pacific hotel in China, following properties in Xiamen of Fujian province, Ningbo of Zhejiang province, and Suzhou in Jiangsu province.
The Tianjin property marks the Singapore hotel giant's first foray into North China.
"Due to its strong heritage as a port city, Tianjin has become an important economic center in the country and is now home to some 300 Fortune 500 companies," says Reinhold Johann, general manager of Pan Pacific Hotel and Serviced Suites Tianjin.
"The development of the Bohai Economic Rim and the Beijing-Tianjin-Hebei integration initiative will further underscore Tianjin's position as a key engine of economic progress, especially for the Northern China region, thereby attracting more business to the city," he says.
Named as "2014's Most Anticipated New Hotel Opening" at the sixth annual Gold Champion Awards hosted by China Hotels Magazine, the 319-unit Pan Pacific Hotel and Serviced Suites Tianjin will respond to the growing demand for quality accommodation in the city in light of Tianjin's booming economic prospects.
"As the country's call for integrated development among Beijing-Tianjin-Hebei province, Tianjin will be engaged to promote investment and trade facility, which will result in more business opportunities for Singapore companies," Sun Chunlan, Party chief of the coastal city Tianjin.
Bilateral trade between Singapore and Tianjin reached $2.9 billion in 2013, up 34 percent from the previous year. And in the first quarter of this year, Singapore-Tianjin trade reached $847 million.
As another most outstanding project under the business tie between Singapore and Tianjin, the Singapore-Tianjin Eco city project launched more than five years ago has enjoyed Singapore's strong experience in the fields of ecological mode, green architectures and environmental economics.
Both sides are still working in partnership in exploring creative mode in the Eco City. In July, the Eco-city project conducted pilot cross-border yuan transactions with Singapore, which will help an increasing number of small and medium-sized companies participating in the project.
"Financial services are an important area for cooperation, which will be further enhanced as the cross-border yuan initiative is implemented. More Singaporean investors can tap into the growth of companies located in the eco-city," said Lee Yi Shyan, Singapore's Senior Minister of State for Trade & Industry and National Development.