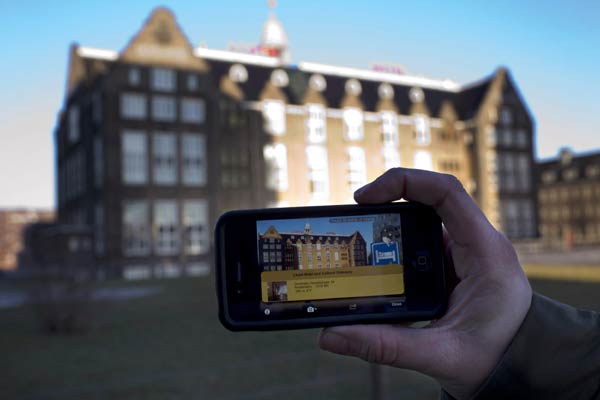 A smartphone user views a hotel building in Amsterdam with the help of an application. Smartphone apps for travel information are increasingly popular now. JERRY LAMPEN/REUTERS
Improving technology sees a rise in apps and tools to book on the go, Li Fusheng and Xu Xiao report.
Smartphones and tablets are expected to become the most important hotel-booking tool for business travelers in the next three years, according to industry insiders.
Jiang Jun, general manager of hotel reservation company HRS China, said about 12 percent of orders the company received were submitted through mobile gadgets. She estimated the figure will exceed 50 percent by 2017.
"Thanks to the popularity of smartphones and new technologies like 4G, mobile phones are pushing forward the trend of online business travel management and becoming another reservation tool in addition to desktop computers," Jiang said.
She said the booking trend was directly linked to business travel as 75 percent of people who booked rooms from mobile gadgets checked in the same day or the day after and most of them stayed for just one night.
"Different from leisure travelers, those who are out on business need to submit, edit or cancel their orders in a fast way and smartphone apps meet those requirements," she said.
As 4G technologies improve the speed of data flow, it will become even faster to manage orders through apps and attract more and more business travelers to follow suit, said Jiang.
Laura Li, an analyst at HVS Global Hospitality Services, said online booking was an obvious trend in the business travel market as smart phones and similar gadgets have changed people's lives.
Statistics from the Ministry of Industry and Information Technology showed there were 139 million 4G mobile phone users and another 471 million people using 3G phones by the end of June.
A Carlson Wagonlit Travel report revealed the increasingly important role of mobile gadgets in the business travel market, especially in China and other Asian countries.
The report indicated that 62 percent of business travelers in Asia would like to book hotels through smartphones. The figure was 55 percent in North America and 45 percent in Europe, the Middle East and Africa.
This could be good news for app developers in China, which is estimated to soon overtake the United States as the largest business travel market.
One app that is gaining popularity is called Tuniu, which was ranked among the Apple Store's top five travel planning apps.
Although there are many travel planning apps, including Ctrip, Qunar and Tripadvisor, Tuniu is one of the few that provides a specific segment for tailor-made tour planning for business travelers.