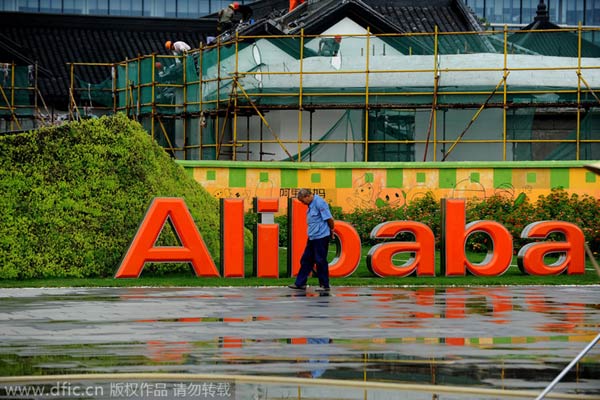 A Chinese worker walks past a logo of Alibaba at the headquarters of Chinese e-commerce giant Alibaba in Hangzhou city, East China's Zhejiang province, September 15, 2014. [Photo/IC]
NEW YORK - Chinese e-commerce giant Alibaba Group's successful listing on the US market will provide global investors fresh opportunities to share fruits of China's economic growth, analysts said.
Alibaba on Thursday set its initial public offering (IPO) price at $68 per share and raised $21.8 billion, making the largest ever IPO in US history.
Even though the IPO price is at the ceiling of its expected range of between $66 and $68 disclosed earlier, some analysts think the pricing is still conservative.
Henry Guo, senior research analyst at JG Capital, thinks Alibaba should have priced higher at IPO. "Alibaba's fair price could be $95," Guo estimated.
After the IPO pricing, everyone is interested to know where Alibaba's stocks will begin to trade. 
Kenneth Polcari, director of NYSE Floor Operations at O'Neil Securities Inc, said: "I would suspect it from anywhere from 10 or 15 percent move. That would be a substantial move for a deal that size. So 15 percent is about $9 or $10 move."
Jack Liu, senior vice president at Chardan Capital Markets, a New York-based investment bank, said: "I think it will be a conservative estimate if Alibaba starts trading at $75 per share."
Kevin O'Leary, chairman of O'Leary Funds, is also optimistic. "I don't know if it's going to trade to $100. That sounds a little frothy to me," he told the CNBC.
"Alibaba is the first choice for international investors to share fruits of China's development," said Guo. "The company's healthy fundamentals, rapid growth and profit margin have impressed investors."