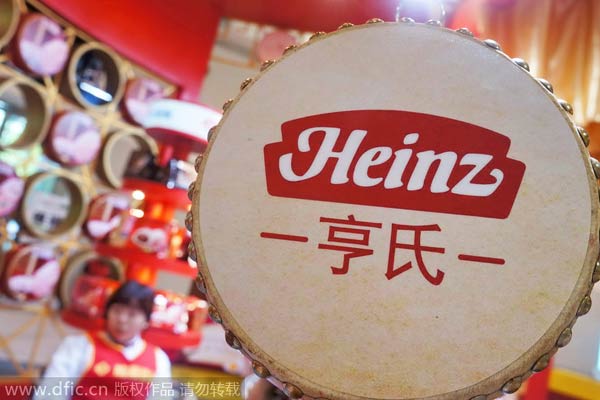 An employee is seen at the stand of Heinz during the International Frozen Food Exhibition in Shanghai, China, September 9, 2012. [Photo/IC]
HANGZHOU - Food safety authorities in East China's Zhejiang province said they have sealed 614 boxes of baby cereal products made by US food giant H.J. Heinz after they were found to contain excessive levels of lead.
Excessive levels of lead were found in 400-gram boxes of "AD Calcium Hi-Protein Cereal" with batch number 20140413 during a regular food inspection in the second quarter, said the Zhejiang Provincial Food and Drug Administration on Monday.
Food safety staff launched a special inspection of 303 food vendors in the province. The sealed products include 483 boxes from two trade companies in the provincial capital of Hangzhou and 131 from retailers.
The provincial food watchdog has asked the company to cooperate with the investigation, provide the cause of the contamination, and handle compensation for consumers.
In a statement issued Friday, Heinz made an apology to consumers over the scandal and said its own investigation showed materials in one batch of degreased soybean cereal used in the product contained varying levels of the chemical.
The company has started recalling products with batch number 20140413, as well as three other batches with numbers 20140414, 20140508 and 20140509, which used the same degreased soybean cereal, as a preventative measure.
According to the company, the contaminated products totaled 1,472 boxes in Zhejiang. By Aug 10, it had recalled 153 boxes from retailers and sealed them in the company's storehouse in Guangzhou, capital of Guangdong province.