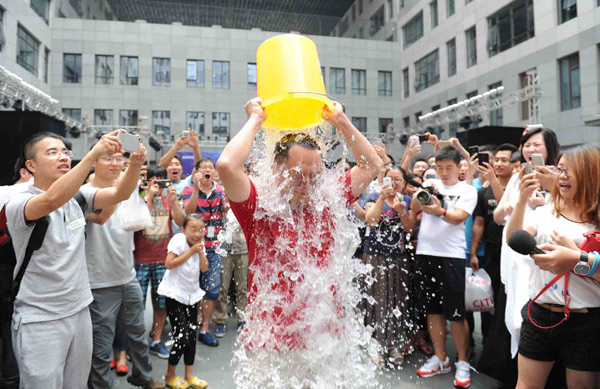 Zhou Hongyi, founder of anti-virus software company Qihoo 360, takes part in the "Ice Bucket Challenge" in Beijing on Monday. The challenge, in which participants are dared to have a bucket of iced water poured over their heads, is aimed at raising money for patients with ALS, a neurodegenerative disorder that is often referred to as Lou Gehrig's disease. [Photo by Yan Tong/for China Daily]
Gu Yongqiang, chairman and CEO of Chinese online video operator Youku Tudou Inc, initiated the Ice Bucket Challenge in China and invited counterparts to participate in it, NetEase Tech reported Monday.
The challenge was undertaken at 2014 Tudou Video Festival in Shanghai on Sunday and then Gu asked Alibaba Group's chairman and founder Jack Ma, Enlight Media's CEO Wang Changtian, and Yang Weidong, CEO of Tudou.com, to continue the game.
As a way to raise funds for patients of Amyotrophic Lateral Sclerosis, also known as ALS, Ice Bucket Challenge requires that participators must pour a bucket of ice water on themselves and then upload the video of the process on the Internet.
However, if they fail to pour ice water on themselves then they will have to donate $100 to the ALS association. After performing the task, challengers can choose another three people to continue the game.
Foreign tech elites, including billionaire and philanthropist Bill Gates, Facebook's CEO Mark Elliot Zuckerberg, and Apple Inc's CEO Tim Cook, have already finished the challenge.
Yang Weidong, one of the three challengers nominated by Gu, also performed the game at the Tudou Festival.
According to NetEase Tech, Wang Changtian has accepted the challenge on his Sina Weibo account but there has been no confirmation from Ma. Lei Jun, founder and chairman of Xiaomi Technology Co, has also expressed his willingness to pour ice water on himself.