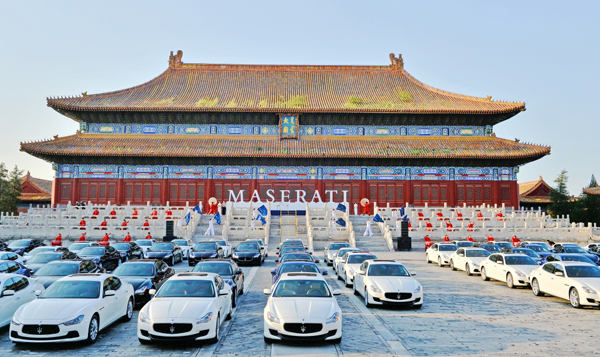 Maserati celebrated its 10th anniversary in China by starting its centennial rally from the Imperial Ancestral Temple in Beijing. [Provided to China Daily]
For Italian luxury car brand Maserati, there was no better choice than to celebrate its 10th anniversary in China by starting its China-Italy Centennial Rally from the Imperial Ancestral Temple in Beijing last week.
A fleet of Maserati cars driven by their owners and journalists set off with the aim to cross six countries-Russia, Belarus, Poland, Czech Republic, Germany and Austria-before arriving in Maserati's home in Italy.
The 35-day journey will cover 12,000 km and is due to finish in mid-September at the company's headquarters in Modena, where the fleet will join Maserati's global centennial gathering.
Before setting off, the fleet of 82 cars, which represented the entire Maserati series, formed the figure "100" at the Imperial Ancestral Temple, a place of worship used during the Ming (1368-1644) and Qing (1644-1911) dynasties for important ceremonies to honor the imperial family's ancestors.
The whole Maserati lineup-the Quattroporte, Ghibli, GranTurismo, Gran Cabrio-was displayed alongside classic models to showcase Maserati's 100-year history and timeless legacy.
The event started with Puccini's aria Nessun Dorma, performed by singers from the Luciano Pavarotti Foundation with Maestro Paolo Andreoli. The show brought back memories of Luciano Pavarotti's own performance of the aria in 2001 at the same venue.
The opera legend was born in Modena, where Maserati began.
The Maserati China-Italy Centennial Rally marks both the brand's global centennial celebrations and Maserati's 10th anniversary in China.
The Chinese market has played a significant role in Maserati's growth from a niche brand to becoming a major player in the global luxury car market. It will continue to be vital in the second century of Maserati's development, according to the company.
In 2013, Maserati's sales in China surged by 334 percent on an annual basis and its business performance this year has so far maintained the high-speed growth.
To better serve local consumers, the Italian brand plans to expand its distribution network to 44 dealerships, which will cover major Chinese first- and second-tier cities.
The Maserati brothers founded Maserati in 1914. To mark its 100th birthday, the brand is launching a series of events around the world.