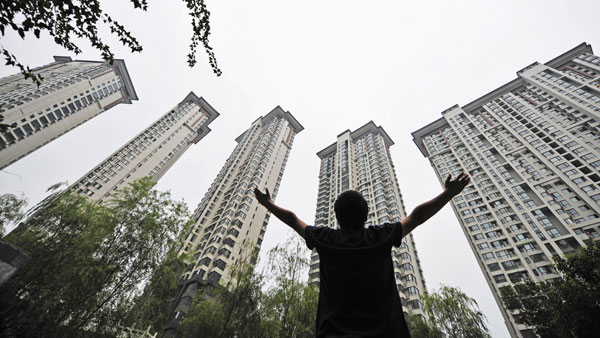 A housing project in Luoyang, Henan province. Property prices in all major cities declined in July, the National Bureau of Statistics said on Monday. [Provided to China Daily]
Among 70 major cities in China, 64 recorded month-on-month price declines for new homes in July, up from 55 in June. And beyond expectations, all major cities saw housing prices decline last month, the National Bureau of Statistics said on Monday.
July also marked the third consecutive monthly decline in property prices, which took place against the backdrop of easing by many cities on purchases and financing conditions.
There were only two cities-Xiamen in Fujian province and Dali in Yunnan province-where prices of new homes rose month-on-month, compared with eight cities in June and 15 in May, according to the NBS data.
New home prices in Xiamen edged up 0.2 percent month-on-month while those in Dali rose by 0.1 percent.
Hangzhou, the capital city of Zhejiang province, recorded the worst month-on-month performance, with prices down by 2.5 percent from June.
Liu Jianwei, a senior statistician at the NBS, said prices have declined because prospective buyers are postponing decisions, given the uncertain market prospects.
Among big cities, housing prices in Beijing rose 4.9 percent in July from a year earlier but slid 1.3 percent from June.
In Shanghai, prices were up 4.8 percent year-on-year in July, compared with a month-on-month drop of 1.4 percent, NBS data showed.
Prices for new homes in Guangzhou declined 1.3 percent from June, while those in Shenzhen saw a drop of 0.6 percent.
"Price drops for both new and existing homes in big cities in July showed that the downturn in the property market is expanding," said Zhang Dawei, director of market research at the Beijing-based Centaline Property Agency Ltd, a property consultancy.
However, Zhang said that demand in larger cities is still huge. "When developers cut prices, buyers emerge."
The debate in the market now is whether the large cities should relax their curbs in the face of high inventories.
Yan Yuejin, an analyst with E-house China R& D Institute, said the possibility that Beijing will loosen its restrictions on multiple home purchases is slim. Policymakers will be very cautious in doing so as it would send a "really bad signal" to the market.
"Taking the long-term perspective, migration to these cities is still huge, so it is necessary to keep the restrictions in place," Yan said. "But it's possible that (Beijing) will fine-tune mortgage policies to lower the financial threshold for home purchases."
Meanwhile, data from the Shanghai-based E-house showed bigger price declines in first-tier cities. Prices of new homes in Guangzhou slumped 12 percent from June to 14,939 yuan ($2,420) per square meter, while in Beijing prices fell 8.2 percent to 24,939 yuan.