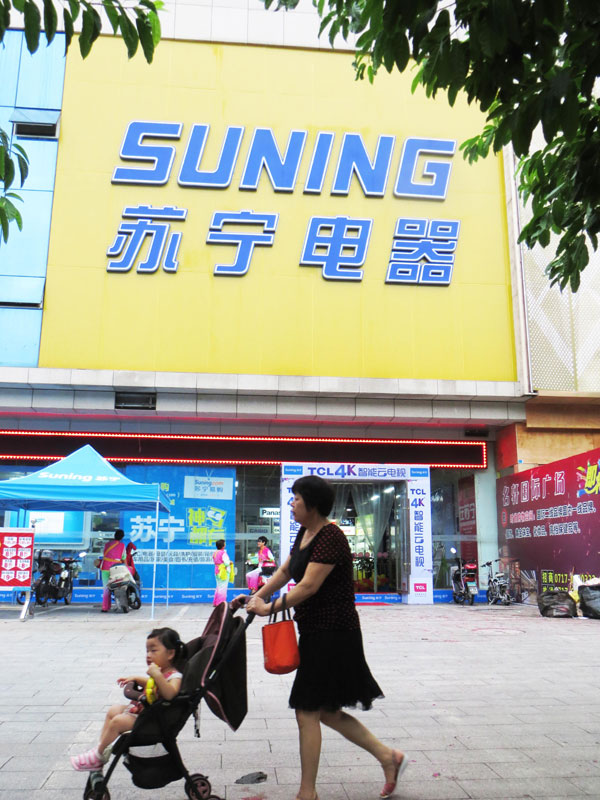 Suning Commerce Group Co Ltd has been the No 1 private enterprise in China for three consecutive years. Chinese private firms have made an increasingly larger contribution to the economy with a growing effort in innovation and investment. [Provided to China Daily]
Legend Holdings takes 2nd spot; Shandong Weiqiao replaces Huawei
Suning Commerce Group Co Ltd and Legend Holdings Ltd stand at No 1 and 2 on the top 500 Chinese private enterprises of 2014 for a third consecutive year, the All-China Federation of Industry and Commerce revealed on Monday.
Shandong Weiqiao Pioneering Group Co Ltd, a super-large enterprise that focuses on textiles, garments and dyeing services, took the third spot, replacing Huawei Technologies. Overall, manufacturing enterprises dominated the list.
Operating revenues of the top three enterprises came in at 279.8 billion yuan ($45.5 billion), 244 billion yuan and 241.4 billion yuan, respectively.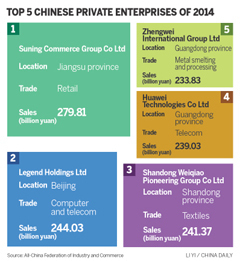 "The overall operating revenue of private enterprises rebounded this year, reversing a trend of declining rates for the past two years," said Tan Lin, secretary of the federation's economic department.
"Chinese private enterprises have made an increasingly larger contribution to the economy with a growing effort in innovation and investment," Tan said.
Tan added that "private enterprises in China expanded, with an accelerating operating revenue, on the strength of their innovation, and the applications of new equipment and advanced information technology," he said.
On the other hand, private enterprises target the resources allocated by the global market from a more international perspective.
Their "going global" strategy appeared to be more diversified, even though they continue to face challenges at home and abroad, Tan said.
Sun Lijian, vice-dean of the school of economics at Fudan University in Shanghai, said: "Most of the enterprises made the list by their own independent innovation.
They braced for competition in the marketplace instead of growing on the support of encouraging policies."
Some leading private companies such as Huawei Technologies Co Ltd, and foreign companies such as Samsung Electronics Co Ltd, established leading positions in their sectors by specializing and diversifying their products.
The government should help to break the monopolies, open up the market and encourage competition to let private enterprises speed up innovation, Sun said.