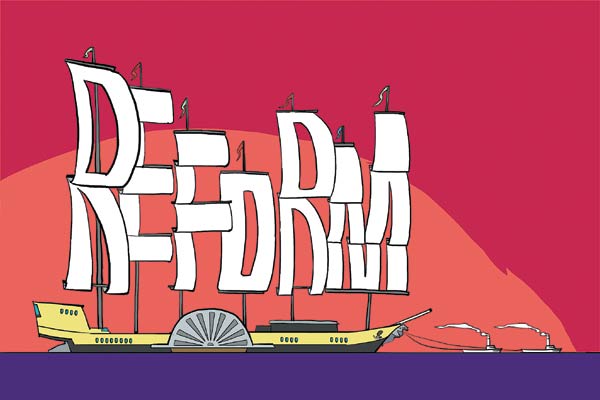 ZHANG CHENGLIANG/CHINA DAILY
China's economic growth recovered slightly in the second quarter to reach 7.5 percent, a strong indication that the world's second-largest economy has been stabilizing after it dipped to a multi-year low of 7.4 percent in the first quarter.
With improving global markets, the expanding effects of mini-stimulus policies and loosening of monetary policies, the economy, more likely than not, will gain more momentum during the rest of the year. With this trend, the focus of the government in the second half of the year should move toward accelerating reform measures, especially in such industries as finance and services.
Positive signs of the Chinese economy can be seen in three aspects: trade, government policies and the housing market.
Though foreign trade's contribution to Chinese economic growth has declined in recent years, it remains a major factor.
Trade improved remarkably in May and June.
In May, exports rose by 7 percent, outpacing the 0.9 percent increase in April and 6.6 percent drop in March. However, imports in May fell by 1.6 percent year-on-year, compared with a rise of 0.8 percent in April and an 11.3 percent fall in March.
But both exports and imports did better in June. Exports expanded 7.2 percent year-on-year, the strongest pace in five month. Imports rose 5.5 percent year-on-year.
The recovery was a result of the disappearance of statistical distortion. Last year, from January to April, trade figures were hugely exaggerated by fake trade - hot money flows in the guise of trade - building a high base for this year. The distortion ended only after the government clamped down on such practice starting in May last year. That explains why this year's trade growth has improved since May.