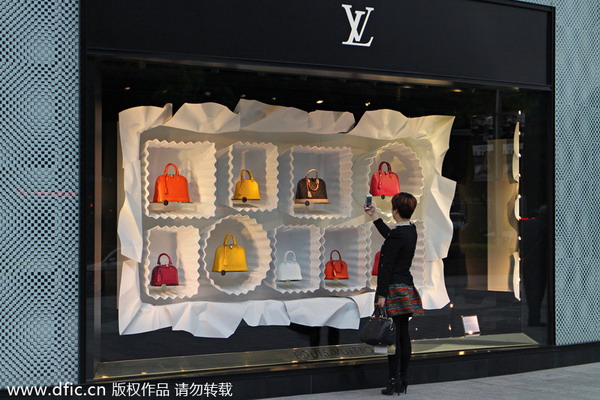 A trendy woman takes photos of handbags showcased at a fashion store of Louis Vuitton (LV) in Fuzhou city, Southeast China's Fujian province, April 1, 2014. [Photo / IC]
Louis Vuitton Moet Hennessy has seen a drop in demand from Chinese buyers in its home market and overseas, the French fashion, spirits and cosmetics group said on Thursday after posting below-forecast second-quarter sales and profits.
The world's No 1 luxury group said growth in sales from Louis Vuitton, its main cash cow, had dropped in China in the second quarter from the first, while revenues from Chinese tourists declined in major European markets such as France.
It also said fewer tourists, particularly from the Chinese mainland, were shopping in Hong Kong. Hong Kong is where many leading luxury brands generate more than 10 percent of their global revenue.
"After May, we have seen the level of business there slowing down markedly," LVMH Chief Financial Officer Jean-Jacques Guiony told analysts in a conference call, adding that the group's duty-free unit DFS had suffered particularly.
Guiony's comments echoed watch specialist Swatch Group Ltd which voiced concerns on Tuesday about the outlook in Hong Kong in the near term.
Regarding China, Guiony did not provide an explanation other than pointing to a general difficult business climate affected by the government's efforts to crackdown on corruption and conspicuous spending.
Louis Vuitton, the top luxury brand by revenue which generates more than half of LVMH's operating profit, has also been struggling to counter a growing perception among emerging market customers that it has become too ubiquitous.
The brand's sales growth in the second quarter collapsed to zero from 9 percent the previous three months.
Louis Vuitton has been trying to win back customers and regain exclusivity by strengthening its higher-end offering with leather goods and smart designs but its efforts have been taking time to pay off.
"Louis Vuitton has done a lot to innovate its products, but consumers - especially in China - are still not embracing it in full," Luca Solca, luxury goods analyst at Exane BNP Paribas said.
LVMH's comments contrasted with a more upbeat trading update from rival Burberry Group Plc earlier this month which said it continued to enjoy solid sales growth in China.
UBS AG, which has a buy rating on LVMH shares, said it was going to change its full-year earnings forecasts "given the much-weaker-than-hoped-for start of the year and the fact that a number of adverse factors will likely weigh for some time, including a slowdown in demand in China".
LVMH's sales growth in the second quarter reached 3 percent on a like-for-like basis, below analysts' expectations for 5-6 percent, while the group's operating profit in the first half fell to 18 percent from 19.8 percent last year.
Guiony said part of the profitability drop was due to adverse currency movements and the slower sales growth.
LVMH's operating profit from recurring operations reached 2.576 billion euros ($3.47 billion), down 5 percent from the same period a year earlier.
LVMH said trading in Europe was resilient "despite a still-challenging economic environment" but sales growth stalled in the second quarter, versus a 1 percent increase in the first quarter.
Revenue growth remained solid in North America but fell 11 percent in Japan, against growth of 32 percent in the first quarter, during which sales were boosted by advanced purchases ahead of a VAT increase on April 1.