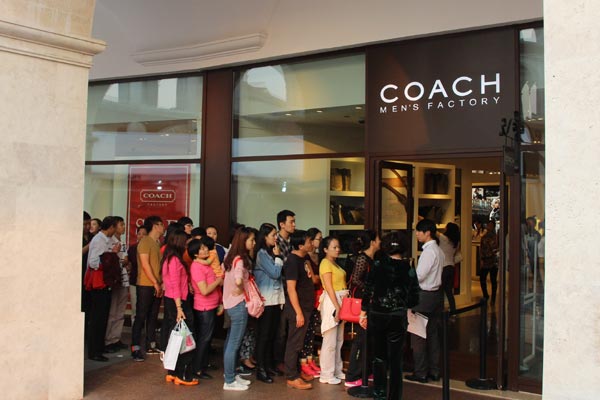 Customers line up to enter a Coach Inc store in Tianjin. Despite a reported 9 percent sales slump in North America, China's market remains a bright spot for the New York-based fashion brand. Provided to China Daily
Coach Inc, the New York-based fashion brand, experienced a 25 percent year-on-year sales growth in China in the quarter that ended on Dec 28, while its sales in North America decreased by 9 percent.
The brand's total sales were $1.42 billion for the second fiscal quarter of 2013, a 6 percent decrease compared with the same period in 2012, according to Coach's earning reports released on Wednesday.
For the six months that ended on Dec 28, Coach's net sales were $2.57 billion, 4 percent down compared with the first six months of fiscal 2013, according to the report.
The sales drop was attributed to weakness in the North American market.
"We continue to be disappointed by our performance in North America, which was affected by substantially lower traffic in our stores and by our decision to limit access to our e-factory flash sales site," said Victor Luis, chief executive officer of Coach.
But the China market's result is considered satisfying because comparable store sales rose at a double-digit rate during the period, said Luis.
The company set an annual guidance of $530 million sales in China in the whole fiscal year of 2013. The business looked to be on track to meet that target, it said in the announcement.
China's sales growth in the second fiscal quarter of 2013 also pushed its international sales up 2 percent to $425 million.
As an affordable fashion brand, Coach is popular among Chinese luxury customers, who contributed to the brand's sales growth, some experts said.
"The sales of Coach will continue going up in China, after Chinese buyers realize it is only a fashion brand rather than luxury," said Zhou Ting, director of the Fortune Character Research Center.
It's not just Coach but some other fashion brands, which are usually called "light luxury" in China, that are also getting business opportunities in recent years, while the luxury market growth is slowing down, she said.