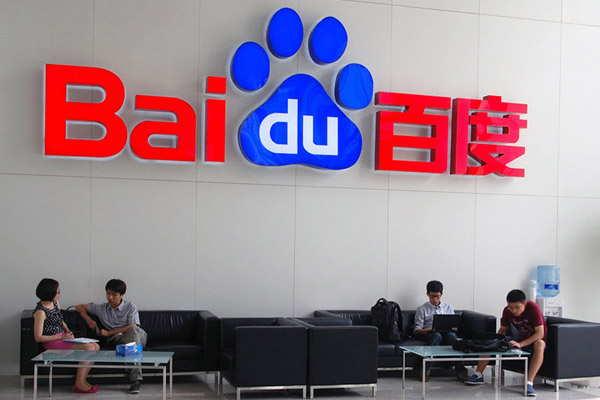 Employees sit in the lobby of the headquarters of Chinese search engine Baidu in Beijing, on May 22, 2014.[Photo/IC] 
Baidu Inc, China's largest Internet search engine, reported better-than-expected earnings for the second quarter on Friday. However, with no aggressive investments made in the year, the Beijing-based company can hardly reassure analysts about its growth momentum in the long run.
Fueled by the strong growth in mobile revenue, Baidu announced in a statement that its total revenues in the three months ending in June soared 58.5 percent year-on-year to 11.99 billion yuan ($1.932 billion).
Net income rose to 3.55 billion yuan from 2.64 billion yuan a year earlier, which beat the 2.85 billion-yuan average of nine analysts' estimates compiled by Bloomberg.
Mobile has served as a key driver for Baidu's growth. "As the clear leader in mobile search, mobile map and app distribution, mobile revenue for the first time ever contributed to 30 percent of our total revenue", said Robin Li, chairman and chief executive officer of Baidu.
The strong growth in mobile revenue signals Baidu's smooth transformation from a personal computer-based search giant to a company that has strong monetization capability in the era of mobile Internet. In the fourth quarter of last year, mobile revenue contributed 20 percent of Baidu's total revenue.
Lu Jingyu, an analyst on the mobile Internet with iResearch Consulting Group, said the business model of Baidu is rather simple. "By introducing more advertisements to its apps, Baidu's mobile search, mobile map and app distribution are basically cash cows, which can easily bring in money," she said.
She said search, map and app distributions are quite mature sectors with a lot of established users. But Baidu has failed to make moves in the new sector or launch breakthrough new services, which triggers concerns about its growth in the long term.
The number of people who surf the Internet via mobile devices in China has for the first time exceeded the number using computers to go online. According to a report from China Internet Network Information Center, a government-backed industry administrative body, released in mid-July, about 83.4 percent of China's Internet surfers are using mobile phones to go online.
Baidu's competitors, such as search and mobile security firm Qihoo 360 Technology and the mobile Shenma Search, purchased recently by Alibaba, have rapidly grabbed a significant share in recent quarters.
Compared with its rivals Tencent Holdings Ltd and Alibaba Group Holding Ltd, which aggressively poured billions of yuan investment in various sectors, Baidu has been quiet after acquiring app distribution platform 91 Wireless and taking control of group-buying site Nuomi.com last year.
Gene Cao, senior analyst with Forrester Research Inc, said Baidu should move faster in mobile Internet investment. "Baidu has its own mobile navigation, and mobile ad apps, which did bring higher margins.
But Baidu needs more investment in areas like location-based services or connected devices. Rivals like Tencent have integrated Dianping.com into WeChat, which brings over 600 million users into the location-based services," he said.