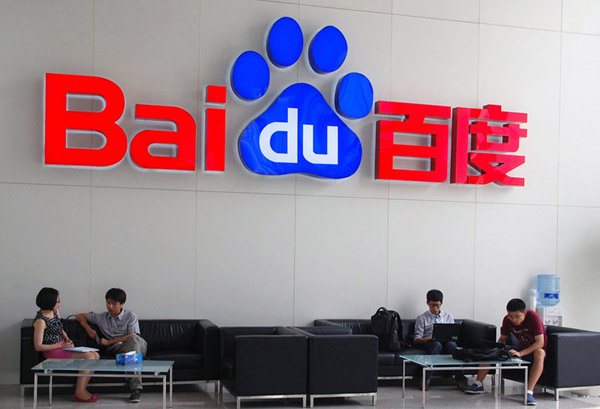 Employees sit in the lobby of the headquarters of Chinese search engine Baidu in Beijing, on May 22, 2014.[Photo/IC]
BEIJING - During his trip to Brazil last week, Chinese President Xi Jinping, together with his Brazilian counterpart Dilma Rousseff, witnessed the launch of the Portuguese version of China's Baidu search engine.
It is not the first time that a Chinese Internet company has launched a non-Chinese search engine, but it is the first time that a Chinese state leader has helped promote its services.
More Chinese Internet companies should compete internationally, as they now have the ability and can make the world's cyber environment more balanced and just.
Thanks to over three decades of rapid industrialization, China has become one of the biggest exporters, and its exports have upgraded from primary goods and light industrial products to mechanical and electrical products, and now high-speed railway systems and nuclear power plants.
During Xi's visit, China and Argentina agreed to build a heavy water reactor power station in the South American country. And earlier in Brazil, the two countries agreed to cooperate in high-speed railway construction.
But this time, Internet services are on the Chinese leader's marketing list. From products to services, it shows China's industrial structure is changing.
Recent years have witnessed rapid development in China's Internet sector and other high-tech emerging industries, which has pushed the number of Internet and mobile Internet users to over 600 million, the biggest number of netizens of any country. Among the top 10 websites in 2012, only one website was based in China, but in 2013, four China-based websites entered the top 10 list.
Not only Baidu.com, but also qq.com, sina.com and other websites, have won abundant users in China and other countries that are home to Chinese speakers. Alibaba.com and taobao.com are among the world's top B2B and B2C/C2C platforms in terms of trading volume and number of clients.
Chinese Internet companies are starting to get their voices heard worldwide, as they now have the capacity to provide services outside the country.
In addition, Chinese Internet service companies going abroad has strategic significance, as search engines are highly monopolized by a few websites and the international community is rightly concerned over cyber security after Edward Snowden's leaks about intelligence project PRISM.
Breaking the information monopoly and building a fairer and safer cyberspace have become the need and consensus of many countries, bringing new opportunities for Chinese Internet service providers.
However, these companies face a long journey to really internationalize. They must study the preferences, customs and interests of Internet users overseas, and they also have to face established Internet giants' advantages in brands, technology and customer groups.
A small step for Chinese Internet companies going abroad will probably have a big impact on the computerized world, and also provide an opportunity for cooperation between newly emerging markets.