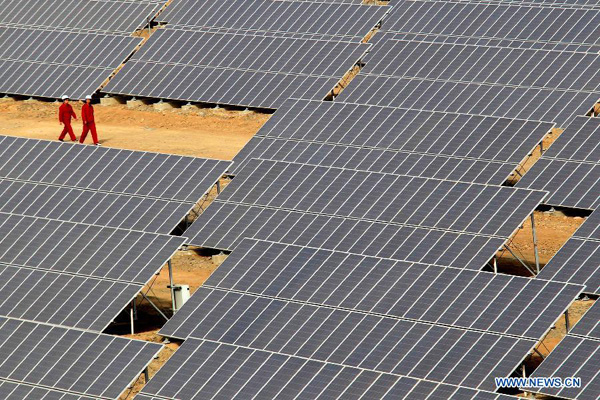 Workers patrol among the photovoltaic equipments in Hami, northwest China's Xinjiang Uygur autonomous region, March 16, 2012.[Photo/Xinhua] 
China's Ministry of Commerce said on Wednesday that the US's latest plan to impose more punitive duties on Chinese photovoltaic products will worsen the trade dispute between the two economies.
China is "strongly dissatisfied" with the US practice, according to a statement issued on the ministry's website.
The US government ignored facts and legal groun
ds
, applied conflicting rules to investigate Chinese photovoltaic products earlier this year and made a preliminary ruling that charges high duties, said the statement.
The move by the US side to restrict Chinese products is an abuse of trade a
gree
ments, and is obviously angled at trade protection, which will definitely have a negative impact on the trade dispute between the two countries, said the statement.
The ministry said the US cannot solve problems with American solar companies by frequently adopting trade remedy measures, and hoped that the US government will cautiously handle the investigation and terminate the process as soon as possible, to create a good competitive environment for global solar industry. China will closely watch the progress of the case, and keep the right to protect its own legitimate rights and interests.
The US Commerce Department on Tuesday set preliminary subsidy rates on imported photovoltaic products from China, signaling that it may impose punitive duties on the products. The US had imposed punitive duties on Chinese solar products in late 2012.
Punitive duties would be imposed after both the Commerce Department and the US International Trade Commission made affirmative final rulings, which are scheduled on Aug 18 and Oct 3, respectively. If the ITC makes a negative determination, the investigations will be terminated.