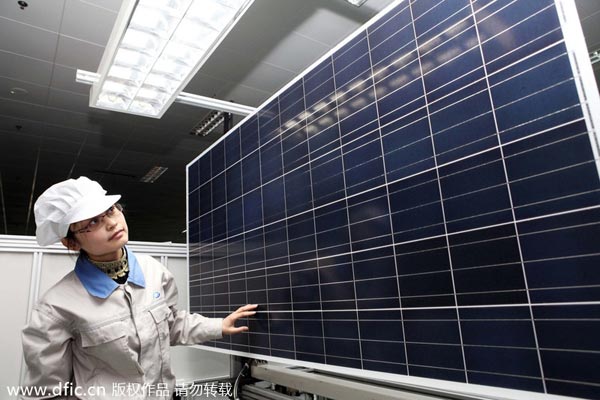 A female Chinese worker examines a solar panel to be exported to Europe at the plant of Shanghai Shenzhou New Energy Development Co Ltd in Ganyu county of Lianyungang, Jiangsu province, Feb 8, 2014.[Photo/dfic.cn] 
BEIJING - The road is destined to be bumpy for China's slowly recovering photovoltaic (PV) sector as power stations face a capital crunch, with banks reluctant to lend due to fears over risk.
Industrial analysts warned of a huge funding gap in PV power station development as a result of incomplete financing support.
The capital demand for station construction is predicted to be around 60 billion yuan ($9.79 billion) per year, much of which cannot be satisfied by the capital market.
Cai Ning, president of Shanghai Ronglian Finance Leasing Share Co, mainly attributed the capital shortage to lagging financial aid despite strong official support policies. Most banks are still hesitant to lend for the construction of PV power stations, although the sector is reviving.
The only exception is National Development Bank, a State-owned bank focused on serving the national economic strategy.
The "wait-and-see" sentiment has permeated the market, as there is no effective risk management tool for the sector, said Zhang Yuan, senior manager with TGD Holding Co, a new energy technology service provider.
According to the government's plan, China's annual new PV power installation stood at around 10 gigawatts from 2013 to 2015, with total volume predicted to reach 35 gigawatts by the end of next year.
China's dampened photovoltaic market has shown signs of heating up as a majority of listed solar cell producers have posted profits in their 2013 annual financial reports or made optimistic forecasts in preliminary statements thus far.