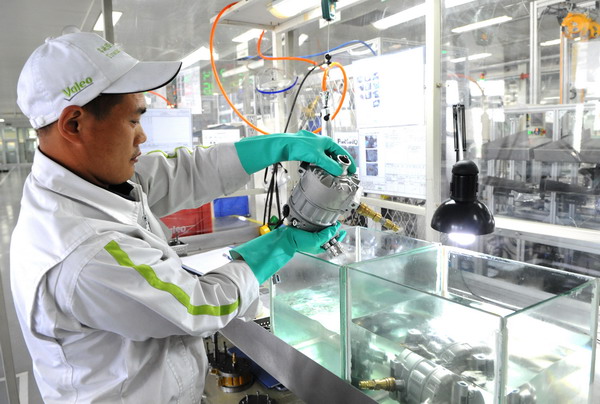 An employee of Valeo Group checks the quality of an air-conditioner compressor in Changchun, Jilin province. The French automobile components supplier aims to make China its largest sales market in the next two to three years. [Photo / Xinhua]
The China market is set to become the biggest market for Valeo in 2016, according to the CEO of the France-based automotive supplier.
Jacques Aschenbroich made the comments at a ceremony marking the completion of the company's new factory in Shanghai on Friday.
He called the completion a "gift" for the 20th anniversary of Valeo entering China, adding that it also "expresses our determination and confidence to develop here and serve our customers here."
The CEO said revenue from the China market in 2013 accounted for 13 percent of the total, versus 8 percent in 2011, and sales in China rose by 31 percent, compared to a 15 percent increase in automotive production. Additionally, 24 percent of Valeo's new orders were in China, with Chinese manufacturers accounting for 30 percent of the total.
Aschenbroich said the company adheres to two core strategies - developing products and systems that contribute to reducing carbon dioxide emissions, and also enabling intuitive driving - according to the requirements of the China market.
He added that Valeo China plans to double its sales every four years.