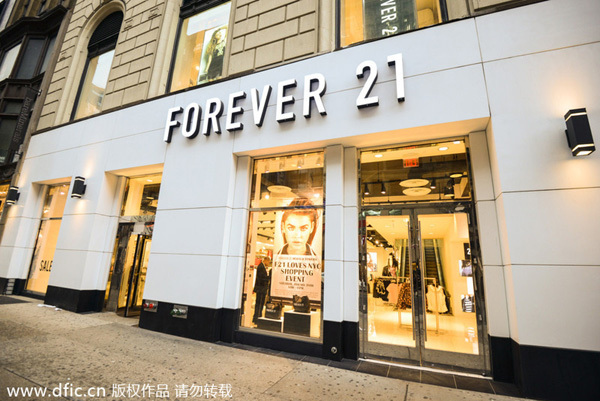 FOREVER 21 Herald Towers Opening held at Forever 21, New York. Jan 18, 2014. [Photo/IC]
The US fast fashion brand Forever 21 is quickening its expansion in China with plans to open five stores this year.
The latest store opened by the company earlier this month is an 18,523-square-meter property in World City Mall in Wuhan, Hubei province.
"As one of the world's largest consumer markets, China offers us endless opportunities to further expand," said Linda Chang, Forever 21 general merchandise manager.
"We are looking forward to offering on-trend fashion and an exciting store environment for consumers in more areas across China in the coming year."
Along with Forever 21's apparel and accessories, including lingerie and footwear lines, the store will also feature the retailer's other brands, such as 21MEN and Love & Beauty.
The brand, which was founded in 1984 and entered China in 2012, carries a variety of styles and products to suit all occasions. It now has about 600 stores in more than 20 countries, and its clothes can frequently be seen being worn by stars of television series.
Chang said Forever 21 is not about a particular age, but is for anyone who wants to be trendy, fresh and young in spirit. New products will arrive at the stores daily and the company's ability to target fresh and current trends and offering them at great value is key to its success.
"We adhere to these principles in every store that we open and are constantly making changes because we believe that, in this industry, what works one day, may not the next."
The other four stores to open this year will be located in Macao, Chongqing, Wuxi in Jiangsu province, and Beijing.