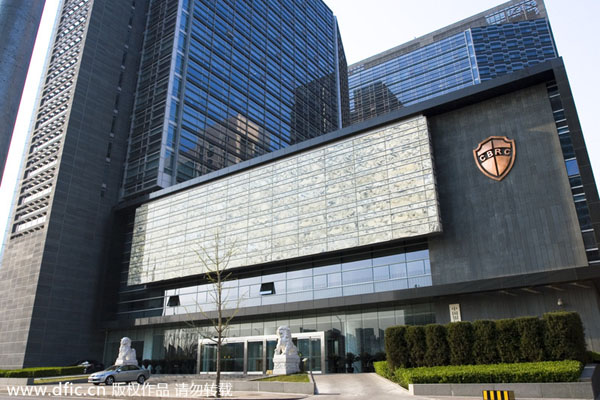 View of the headquarters and head office of China Banking Regulatory Commission (CBRC) in Beijing, China. [File photo/IC]
The China Banking Regulatory Commission is confident about the authenticity of non-performing loans data it has released, a senior official with the regulator said on Friday.
Wang Junshou, deputy director of the commission's general office, admitted there had been flaws in the data in early years, but the quality of the information now had improved greatly from when the regulator was set up in 2003.
Non-performing loans at China's banks rose by an additional 54.1 billion yuan ($8.66 billion) to 646.1 billion yuan in the three months to March, according to data from the commission released on May 15.
It was the 10th consecutive quarter in which the closely watched figures had increased.
By the end of March, non-performing loans accounted for 1.04 percent of total loans, up by 0.04 of a percentage point from the end of last year.
"If they tamper with the data, non-performing loans and the NPL ratio will drop." Wang said. "The rise of NPLs and the NPL ratio is in line with macroeconomic development."
He was responding to concerns that the bad-loan ratio may be wider than reported.
Investors have long doubted the number, as banks are struggling amid slowing economic growth and in the aftermath of the huge lending spree unleashed by policymakers to counter the impact of the 2008 global financial crisis.
Wang said he was not "100 percent sure" that individual banks did not "fine-tune" the figure, but promised to ensure authenticity in the long term.