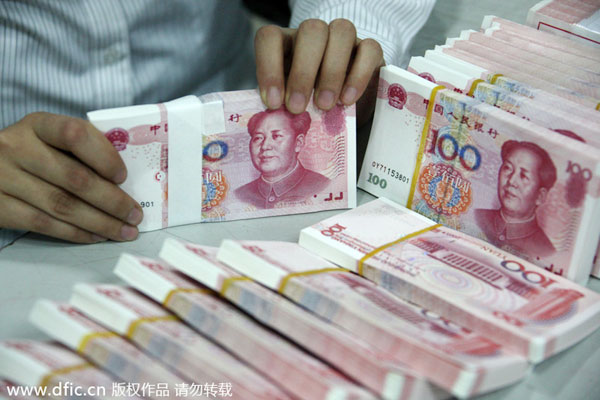 A clerk counts yuan bills at a bank in Huaibei, east China's Anhui province. [File photo/IC]
The central government will not shift its policy direction amid the economic slowdown, but will intensify targeted financial easing in coming months, the State Council said in a statement on Friday.
The statement, which followed an executive meeting of the council, said the government will strengthen the "targeted reduction" of the reserve requirement ratio - the amount of money banks have to set aside as reserves.
The statement said banks that have lent "a certain portion" of their total loans to agriculture-related firms, small and micro-sized enterprises and other companies that cater to economic restructuring demand, would enjoy the ratio cut. It did not specify the portion required.
In April, China cut the reserve requirement ratio for rural banks by up to 2 percentage points, but did not reduce the ratio across the board.
The ratio for large financial institutions is 20 percent and it is 16.5 percent for smaller ones. Many economists believe the ratio is too high to release sufficient liquidity to spur the slowing economy.
Economists also believe the rising cost of borrowing is weighing on the nation's enterprises. The decline in interbank borrowing rates in the past month, a result of the central bank's proactive easing, has not yet led to a softening of the long-term borrowing rate.
Observers have noticed the paradox between China's ample money supply and persistent high borrowing rate. Some have argued that structural factors, including banks' excessive interbank lending, have pushed the lending rate high.
The statement vowed to deepen financial reform and "adjust the structure" to "unplug" the vein through which the financial system supports the real economy.