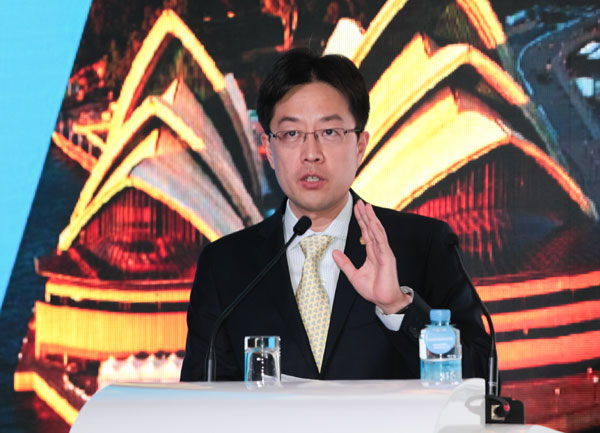 Tony Zhang, trade and investment commissioner at the New South Wales Government Trade & Investment Office, Shanghai, speaks at the NSW State Day at the Beijing International Service and Trade Fair, on May 28. [Photo/Provided to chinadaily.com.cn]
Australia's New South Wales State government took part this year in the Beijing Fair for the first time, and aimed to promote Australia's construction, education, and tourism industries – as well as its film industry - in its exhibition pavilion.
The NSW Government Trade & Investment Office, Shanghai, introduced Chinese fair attendants to visiting Australian business people, so as to help them gain a better understanding of what the other has to offer.
The non-profit office - a branch of the NSW state government - opened in 2009, and Tony Zhang has been serving as the trade and investment commissioner at the office for five years.
"The NSW State is the most vital state in Australia, with the highest growth rate among all Australian states, and a population about one third of the total Australian population," said Zhang.
New South Wales State, one of Australia's most preferred states for Chinese investors, boasts diversified trade with China, and the service trade grew rapidly in 2013.
"Last year, over 70 percent of NSW state economy is made of service industries, such as financial services, ICT, creative industry, biotech, logistics, tourism, education, etc." Zhang said on the sidelines of NSW State Day at the Beijing Fair.
Some large companies in Shanghai, including Greenland Group and Bright Food Group, have already made deals in the NSW State, following support from the office.
"Our obligation is to offer assistance to Chinese investors - in Beijing or Shanghai - to build friendly relationships in NSW State, to find business opportunities, and accomplish their investment goal," Zhang said.
The office is set to expand its service to North China, and Zhang said his staff is always ready to offer support when investors are faced with problems – especially regarding language, culture differences, legal issues, or communication with the Australian government and media.
"Australia is looking forward to more opportunities to work with Chinese investors, especially in service, culture, and agriculture," said Justin Hayhurst, deputy head of mission at the Australian Embassy.