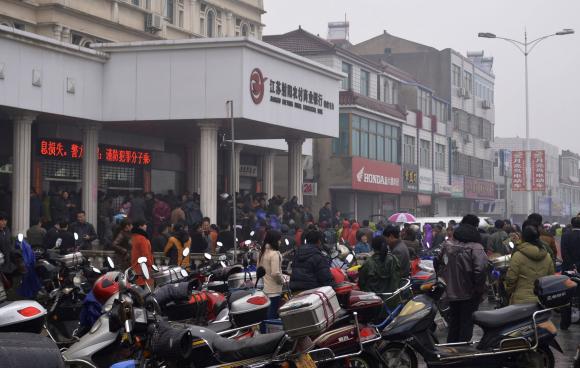 People gather in front of a branch of Jiangsu Sheyang Rural Commercial Bank, in Yancheng, Jiangsu province, March 25, 2014. [Photo/Agenices]
The China Banking Regulatory Commission (CBRC) has said it will conduct regional and national stress tests after banks saw a spike in bad loans last year, the Shanghai Securities News reported on Friday, reflecting growing creditworthiness concerns.
"All (CBRC) offices, supervisory departments, must organize stress tests of banking institutional organizations in a timely manner so as to analyze the impact of unfavorable situations in individual banks and the banking system and urge banking financial institutions to make emergency plans," the regulator was quoted as saying in guidelines sent to banks in March.
Chinese banks' non-performing loan (NPL) ratio rose to its highest level in two years in the last three months of 2013, to 1.0 percent, the CBRC reported in February.
A corporate bond default and the near-collapse of two high-profile shadow-banking investment products earlier this year were further evidence of growing financial strains afflicting the economy.
"Banks should study the risk situation in key regions, focus on certain industries and on important clients," the paper quoted from the CBRC document.
Chinese banks are now dealing with the aftermath of the huge lending binge that policymakers unleashed to soften the impact of the global financial crisis in 2008.
The CBRC's 2014 guidelines also urged banks to curb lending to local government financial vehicles (LGFVs) and industries facing overcapacity, including property and steel-trading firms.
"In particular, it is necessary to tighten supervision and control of spillover of risk between businesses in and off balance sheets and between the banking and other systems," the guidelines were quoted saying.
The guidelines also warned banks against disguising the true scale of their bad loans by offering borrowers new loans to repay maturing ones.
The report did not provide details on how the tests will be conducted, or even whether the CBRC will conduct tests of individual lenders or only of the industry as a whole at the regional and national levels.
"It depends on the details and what exactly they test," said May Yan, China banks analyst at Barclays Capital in Hong Kong.
"They've been testing on the property market for years, and the banks all come back and say even if property prices drop by 30 percent, it would have a very small impact on asset quality and earnings. But that's not necessarily true because there are second-order effects."
An index of Hong Kong-listed mainland financial shares HSFI was up 0.4 percent in late morning on Friday, in line with a 0.4 percent rise in a broader index of all Hong Kong-listed mainland firms.