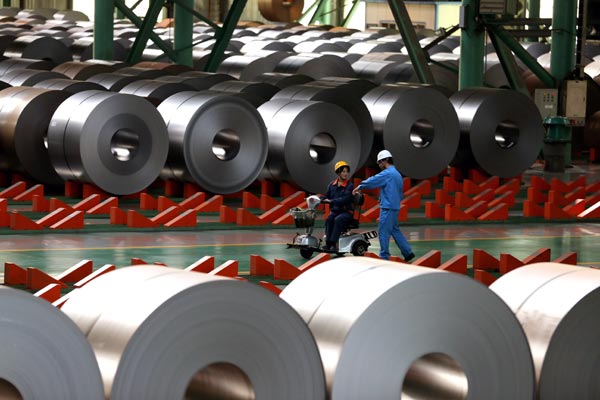 A steel warehouse of Shougang Group in Caofeidian, Hebei province. Severe overcapacity brought a 2.33 billion yuan ($377 million)loss for major domestic iron and steel companies in the first quarter of this year. [Photo/China Daily]
China's steel industry faces rising costs, shrinking demand and tight loans from banks. Those conditions made the sector's first quarter its toughest this century.
Weaker demand slowed growth in China's economy, the world's second-largest. Crude steel output increased in the first three months of this year, up 2.37 percent year-on-year, to 202.7 million metric tons, the China Iron and Steel Association said on Monday. That translates to daily output of 2.25 million tons and an annualized 822 million tons for 2014.
Severe overcapacity brought a 2.33 billion yuan ($377 million) loss for major domestic steel companies in the period, said Zhang Changfu, vice-chairman of CISA. It compares with a 3.3 billion yuan profit in the year-ago period.
Zhang cited high iron ore costs, rising spending on carbon emissions and falling prices for the result and said industry profitability is expected to improve, but still struggle, in the second quarter.
The domestic price of unit steel products dropped 10.14 percent, or 368 yuan a ton in the January-March period, according to data from the association.
The average price of export steel products was $794 a ton, down $63 year-on-year. Weak demand and increased output produced high steel inventories, which by end-March stood at 19.41 million tons, up 43.65 percent from the start of the year.
"China's steel industry needs structural adjustment, which takes time - from three to five years," Zhang said.
Li Xinchuang, head of the China Metallurgical Industry Planning and Research Institute, told China Daily that in the circumstances, no new steel capacity should be added for any reason.
"Existing steel capacity, which cannot meet the country's emission standards, should be eliminated," Li said.
Still, fixed steel-sector investment during the first quarter was 89.3 billion yuan, of which 71.6 billion yuan came from the private sector.
"The extremely low profitability is a warning bell for every steel company," said Zhang Lin, a senior researcher at the Lange Steel Information Research Center. "If they don't plan strategically for the long term and get prepared, they will die out."
Some iron and steel companies are working on non-steel business to improve their financial performance, potentially harming the steel industry's competitiveness and technological development, Lin said.
With the contribution from non-steel businesses stripped out, domestic steel companies' losses were 4.1 billion yuan in the first quarter, she said.
Some large companies, including Baosteel Group Corp and Tangshan Iron and Steel Group Co Ltd, plan to raise their non-steel business to 50 percent of their portfolio to survive. It's generally believed that non-steel business should account for around 30 percent, Zhang said.