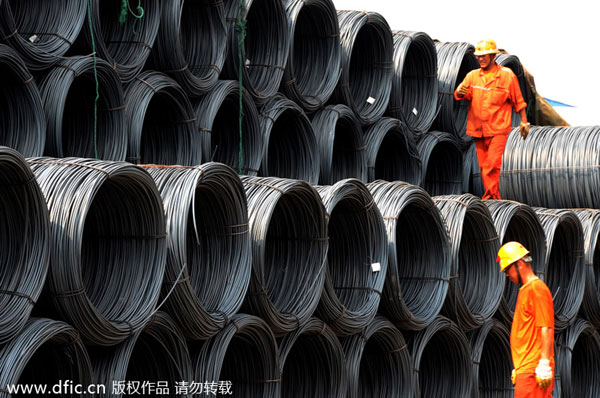 Chinese workers examine coiled steel rods to be shipped abroad at the Port of Lianyungang in Lianyungang, east Chinas Jiangsu province, 20 September 2013. [Photo/dfic.cn]
LONDON -- The slower growth of China's steel demand in 2014 and 2015 was keeping with the the country's economic development level as an industrial producer and reflected its change of economic model, said a senior official of an international industry association on Wednesday.
After a 6.1-percent growth in 2013 with support from government infrastructure investment, apparent steel use in China was expected to slow to a growth of 3.0 percent in 2014 to 721 million tons. In 2015, the steel demand growth is expected to further fall to 2.7 percent to 741 million tons, according to the Short Range Outlook published by the World Steel Association (Worldsteel).
"It still grows in a positive way, but at a slower pace," said Edwin Basson, director general of Worldsteel, pointing that the amount of China's steel demand in the coming two years was still "incredible."
Worldsteel forecasted that global apparent steel use will increase by 3.1 percent to 1.53 billion tons in 2014 following a growth of 3.6 percent in 2013. In 2015, world steel demand was predicted to grow further by 3.3 percent and reach 1.58 billion tons. China's consumption was almost half of that of the world.
Basson said that the reason for the slowdown of China's demand growth was the shift of the Chinese economy from being investment driven to consumer driven. "We have pretty much seen the process taking place in China that the government is stepping back from very large investment programs," he said.