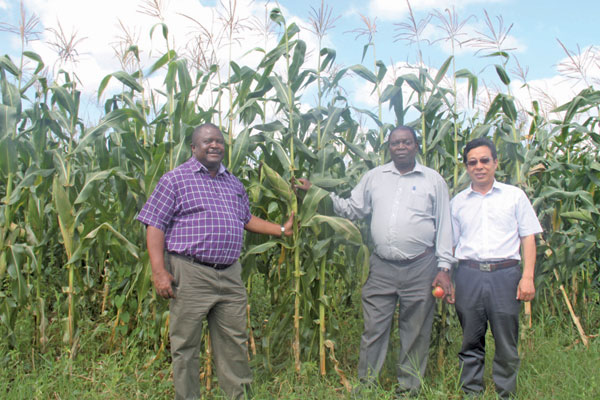 He Hongshun (right) says the project he is working on will help Zimbabwe achieve self-sufficiency in grain output. Provided to China Daily
Chinese company sows the seeds of agricultural cooperation in Zimbabwe
When He Hongshun arrived in Zimbabwe four years ago from Hefei, Anhui province, he didn't realize that he was going to play a major role in the African nation's efforts to revitalize its agriculture sector.
He, general manager of the Zim-China Wanjin Agricultural Development Ltd project in Chinhoyi, Zimbabwe, says the joint venture now has 10,000 hectares (seven fields) of land under agricultural crops.
The project, a joint venture between the Anhui Provincial State Farms Group and the Zimbabwean
mini
stry of defense, will have 50,000 hectares of land under cultivation by 2015.
Once considered the breadbasket of Africa, Zimbabwe has suffered recurring food shortages for more than a decade as a result of a decade-long recession that saw a sharp drop in agricultural production. That made for alarming statistics in a country where more than 70 percent of the people depend on agriculture for sustenance.
Although the Zimbabwean government had initiated a series of measures to rejuvenate its ailing agriculture sector, it got a shot in the arm after teaming up with the State-owned Chinese firm. The joint venture has through its efforts ensured that several idle and half-idle farmlands are brimming with activity again.
"Crop cultivation is in full swing in several places and most of the farms are humming with activity. The number of idle and half-idle farms is on the wane," He says.
That is in sharp contrast to a few years back, when farmers in Zimbabwe were facing uncertain prospects and had even considered giving up farming. It was a process that also saw huge swaths of farmland lying idle.
APSFG, however, knew that it was not going to be an easy task. The task involved considerable investments in agricultural infrastructure and machinery, as well as getting the support from local farmers who had not been exposed to modern techniques.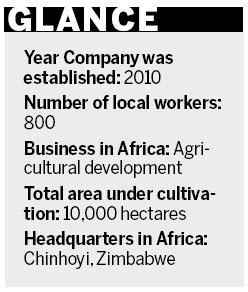 "According to our estimates we envisage an approximate investment of around $240 million, including infrastructure and machinery, on the project," He says, adding that the company started to break even from last year, without disclosing earnings or investment numbers.
Pointing to the vast soybean, wheat and maize fields behind him, He says the harvested grain will be sold in the local markets so that it can benefit the local communities.
"Through this project we want to help Zimbabwe achieve self-sufficiency in grain output," says the 46-year native of Hefei, Anhui province. Before coming to Zimbabwe, He was a senior engineer with the APSFG in Hefei.
Like several other people before him, he was initially a bit apprehensive when he was posted to Africa. "There were the usual fears such as going to a new place, meeting new people, new customs etc. But I was pleasantly surprised and bowled over by the warm and friendly nature of Zimbabweans," He says.