In another development, Yi Gang, deputy head of the PBOC, said on Thursday on a panel hosted by the Johns Hopkins school of advanced international studies that the recent depreciation of the yuan was normal and China remains on track to let markets play a more significant role in determining its value.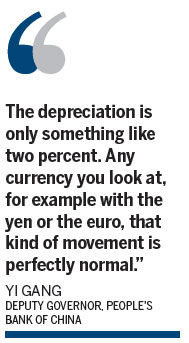 "If you look at the volatility of all currencies, probably the yuan's is among the lowest," Yi said, commenting on its movements in February and March.
"The depreciation is only something like two percent. Any currency you look at, for example with the yen or the euro, that kind of movement is perfectly normal," he said.
Yi promised the future direction is one of China liberalizing exchange rates. "My forecast is that the yuan will more or less see flexibility increase and it will move both ways, unlike before when it was all one way," said Yi.
Some analysts say the recent PBOC moves regarding the yuan do not suggest a fundamental shift of policy toward a weakening of the currency.
The currency's annual appreciation pace reached as high as 4.4 percent in the fourth quarter of 2013, compared with a quarterly average of 2.1 percent over the past two years. Some say it is too fast a pace for exporters and manufacturers to accommodate.
"Two-way volatility is consistent with the PBOC's medium-term objective to increase the flexibility of the yuan exchange rate and move the currency toward convertibility," said DBS Bank Economist Nathan Chow.